125 lb Cyclist Takes on 3 lb Veggie Burger
What happens when a 125 pound cyclist takes on the challenge of eating a 3 pound veggie monster burger?  A better question may be…why would someone even want to?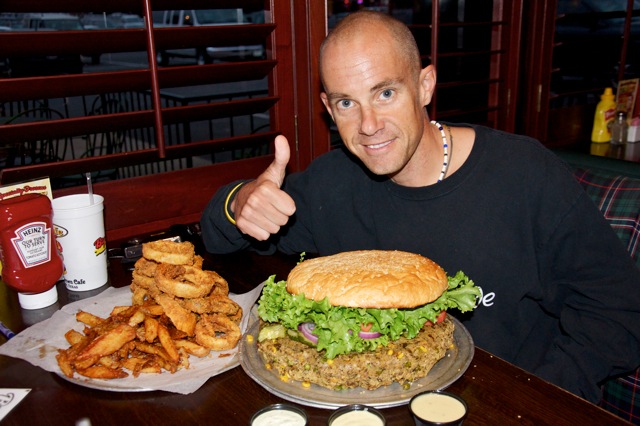 As I've mentioned before, one of our sponsors over here at Loving the Bike is Big Daddy's Restaurant in Austin.  On their menu is what they call the "Monster Burger" and it's one of those crazy food challenges where if you can eat the entire thing in 33 minutes or less…it's totally free.  Since Big Daddy's serves up one of the best homemade veggie burgers I've ever tasted, I asked their executive chef if they've ever done a veggie monster burger.  He responded saying it's possible, but hasn't yet been attempted….and right away I knew we had a new kind of challenge on our hands.
The Cyclist VS The Monster Veggie Burger
Personally weighing in at 125 pounds and knowing that eating a 3 lb veggie burger along with 1 lb of fries is absolutely insane, indulgent, and grossly un-healthy….I still just had to take part in the name of publicity and good marketing for Big Daddy's.  Being such a unique and interesting story, not only are we highlighting the event on our site, but it's also been picked up by several local and national food blogs as well.
* A note to all you potential sponsors out there….We go above and beyond to promote those who partner with us *
Before having a look at this video that shows all the details from the challenge, I wanted to mention that Big Daddy's truly has one incredible homemade veggie burger…and the original is definitely the size you're accustomed to.  It was actually my love for their veggie burger that led to my Family being regular customers and the ensuing sponsorship that followed.  If you are up for a crazy challenge like that of the Monster Burger, the beef burger challenge can be done at any time…and the veggie challenge requires you giving them a heads up at least a day prior.
[youtube]http://www.youtube.com/watch?v=HCsOclVnNAo[/youtube]
Detoxing After a Big Feast
For any of you celebrating this week with a big Thanksgiving feast, or any big meal for that matter…..later on you just might feel like you ate 3 pounds of Turkey and not sure how to get your body feeling better.  Well, we're here to help.  Our Nutritionist, Kelli, is serving up her post-Thanksgiving Green Detox Super Smoothie recipe for you on Thursday so be sure to check it out.  Your body will thank us.
More photos from the Loving the Bike VS Monster Burger Challenge: