Alan is Loving the Tour de Cure Ride
We love seeing cyclists getting excited about riding bikes, so when Alan contacted me to see if we would post his report from the "ride of his life"….how could I say no?  Here's the details from his recent Tour de Cure ride.
American Diabetes Association NEC Tour de Cure Ride Report
by Alan Nakashian-Holsberg
Day 1: got to the starting point, picked up my bib number and Jerseys. I truly was part of something. At 8:30, they got us set up to start out, RedRiders in the front of the pack, I was one of them.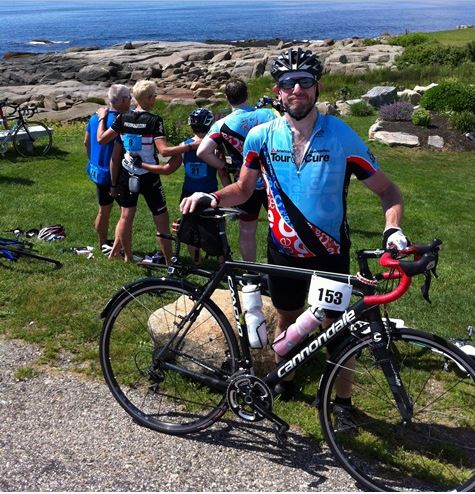 About 2 or 3 miles down the road, I settled into a fast pace with a couple of other riders and we put down the miles to the first rest stop. I checked my computer and noticed that we were averaging over 18mph, fastest sustained pace for me for 25 miles. Felt great, nothing like riding in good company and a fast pace line to remind you how good it can be.
After that rest stop, about 5 miles down the road; I fell off the back on a hill climb and ran at my own pace until I settled into another group of riders. That was the best thing about this ride, being able to sit in with various groups and the camaraderie displayed by all of the riders. Second rest stop and the final water station were uneventful, just laying down the miles.
We got into UNH early afternoon, checked into our dorm rooms and then spent the rest of the afternoon relaxing. I meet even more cyclists, some doing the 2 day others doing the full 7 days, all of them saying "you'll be back for more after this". We talked about a number of different things, how this was my first year of serious cycling and how I got here. I received so many wonderful compliments and accolades, it felt great. I guess I can't get tired of talking about how this procedure gave me the life that I needed to have, cycling is just a part of it.
Day 2: Being that normally when Lou and I get out to ride on the weekends we are rolling by 6:30 at the latest, I kept looking at the time (yes, first I would look at the bracelet that my daughter made for me on my left wrist, but it wasn't being useful and telling me what time it was) and thinking, damn it's late, we could be 20ish miles in to the ride by now. We rolled out at 8am. First 10 or so miles I spent trying to find my groove, my left knee which had concerned me the night before was doing great, but my right leg was giving a slight burning sensation from above the knee down along the calf. Not enough to throw in the towel at that point, but noticeable.
I rode together with another rider most of the day, holding around 15mph. The 3rd rest stop was at 70 miles, i took some extra time there. Let my legs recover a bit, got some more fluids, got some food into me and sat back for a bit. I kept hearing Lou's voice in my head "what do you have left in the tank? How are your legs? Think you have a few more miles in you?" I started thinking "if I tap out now, I won't know if I could really do it. My legs are good, if I get back on the bike now I can push out the last 15 miles, I'm not in pain just not feeling great."
Hooked up with another rider who happened to be from the area sort of in the same boat I was in, nothing left to hammer with just finishing the ride. So we rode together the next 10 or so miles. I went solo the last 5 miles and pulled into the end point at the University of ME. I felt great, I felt beat, I felt dehydrated and I finished the day with 82.6 miles and had completed this goal. The nice people at UME provided towels and showers; it felt great to wash the minerals and salt off of me.
I then commenced to kick back and relax in the shade, drank 2 or 3 more bottles of water/electrolytes and reflected on what I had just accomplished. This time last year, July 13th I rode 4.67 miles at an average speed of 11.2 and July 14th I rode 10.04 miles at an average speed of 8.3mph. I have come a long way since then.
As I was waiting for my ride to show up, I didn't want to wait around for the bus at 6:30, I was talking with some of the other cyclists. One of them came up to me while I was chatting with the event organizer and said that he looked forward to riding with me again next year, then told the organizer that "this guy is a monster on the bike". This was quite the compliment coming from an accomplished cyclist who has been riding for the better part of the last 40 years and was completing the 7 day ride. He was part of the fast group that I rode the 25 miles with on Saturday.