2011 London Bike Show Review
My man, @StevieDexter shares with us his great review of the first ever London Bike Show that's going on right now in the UK.

Today I ventured out to the ExCel Centre in the heart of London for the inaugural London Bike Show. I had seen the event advertised a few months ago but didn't really take much notice until I entered… and won a Rapha competition that they ran on Twitter which netted me two tickets to the show. So, thanks Rapha! Knowing I'm always up for a challenge and to get involved in the cycling community, Darryl 'Psy' Chotic asked me if I'd do a little informal review of the show, so here we go.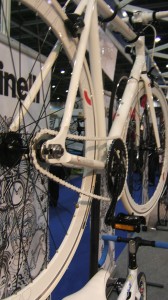 Being the first ever London Bike Show in this particular guise I was not sure what to expect other than the colourful but limited information on their website www.thelondonbikeshow.co.uk. I'm sure there have been bike shows and Expos in London before but when they get to the heady heights of being held at venues such as the ExCel Centre you start to expect great things from them, not just in their physical size but from the exhibitors and the event as a whole. Add to this the fact that The Outdoor Show and The London Boat Show were also being held in the same building made for a mouthwatering array of things I wanted, dreamt of and believed I needed but could never ever own due to price, practicality, size or a combination of all three!
On arrival it all seemed pretty normal, booths lined up in a Street and Avenue type of affair all bidding for a few seconds of your time to explain why you should be spending your 'dosh' with them. I took half an hour to wander up and down the aisles to familiarise myself with the brands and stalls, evaluating what each one contained and mentally grading it as to how eager I was to go and play with their products. This was all in an effort to look very nonchalant and knowledgeable when I approached each stall (if graded high enough on the 'Think Box Scale') and not to stick out like someone who had a wad of cash burning a hole in their pocket which was available to the first person who gave away a free energy gel sample.
And that's when it all started to go wrong. You see, I didn't have a wad of cash in my pocket to satisfy the Pinarello boys or the very lovely ZipVit lady and I wasn't about to dust off my credit card either. I was there to marvel at more carbon than I could shake an old frame pump at and hopefully touch some of them too, (bikes, not ZipVit ladies!) I was happy with that as a day out! But most others around me where not on my wavelength and I felt increasingly awkward as I went around the show. Now you may be thinking this is to do with my shy, retiring personality or I was just their for the freebies but I can assure you I'm a pretty outgoing guy who doesn't often worry what other people think of him and will talk to just about anyone (ask @shitcyclistsays) but I had this nagging feeling that I didn't belong there.
These were not bikies like you and I. Not people that would happily sit discussing the Shimano/Campag issue for 2 hours, or spend an inordinate amount of time re-wrapping bars until they are 'just so' or even getting on an indoor trainer. These were salesmen. I'm sure most of them have bikes and maybe even a few of them occasionally ride them but the biggest let down of the show was that it felt like, as someone who rides a bike, I was an outcast. I guess this is something that the organisers will be able to address, over what will presumably be many fruitful years of the the show at ExCel especially as cycling is becoming so big in the UK and in particular London.
There were however some notable good points to the the show. Below are a few pics, which due to a technical issue with my camera me, have turned out rubbish. But not to fear, after reading this… and then reading the rest of the site…. and putting it in your RSS feed head over to road.cc where they have some great pics from day 1 of the show.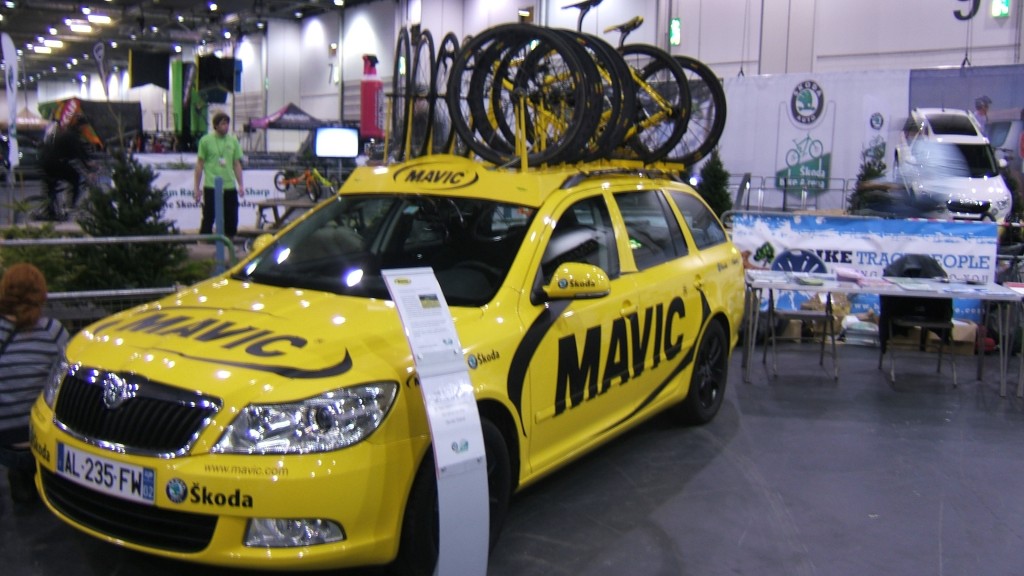 The guys at Druid Cycles are buying, customising and auctioning second hand bikes live from the show all in aid of raising money in support of the professional MTB rider Nirjala Tamrakar from Nepal and the Indian rider Parth Raikwar. These guys were the last thing I expected to see at the show but they were a breath of fresh air and the craftsmanship was superb. You can see the sewing machine at the back which was being used to custom stitch a new leather seat. I was told the bidding commences on Friday online as well as at the show.
My lust and longing for a fixie grew to an immeasurable proportion today. After seeing the bike messengers do things around the streets of The City of London that I thought only Robbie McEwen could do I was then smashed between the goggle-balls by the Cinelli stand. Beautiful machines which I stood looking at for probably slightly longer than is socially acceptable.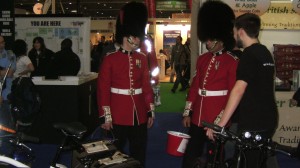 It wouldn't be London without seeing some of the Queen's guards now would it? These Coldstream Guard were actually involved in the boat show but took time to walk around all three events raising money for charity. Having the London Boat Show and The Outdoor Show all staged under the same roof definitely gave the show a little more legitimacy. As stated above the show is in it's infancy but this review would be very negative (you may think it already is!) if I'd travelled to London and only had the London Bike Show to look around. Yes I'd gone specifically for that but it was great to be able to walk down the hall and see the vast array of outdoor products and displays on offer and at the other end, the largest chandlery you're ever likely to see, sitting next to the most outrageous display of wealth and showmanship I'm ever likely to see. Some of the super yachts were disgustingly big and if you think we as members of the cycling culture get excited about our Garmin's, SRM power meters ect, you've clearly never been to an international boat show and seen the type of kit they have!
Skoda were a major sponsor of the event and had cars EVERYWHERE! The event was not centered around the PRO peleton as much as I expected and it was nice to see something recognisable in amongst all the Bromptons and mountain bikes.
Being so heavily involved in British Cycling it was obvious Sky would have a presence at the show and they did not disappoint. The show centered around this rather large shiny, silver wedge which was intriguingly coy about what it contained and the queuing masses outside only added to this. It was in fact a demonstration of Sky's passive 3D technology which I was pleasantly surprised about. The actual British Cycling stand was very bare and the most disappointing part of the show, hence the lack of picture in protest!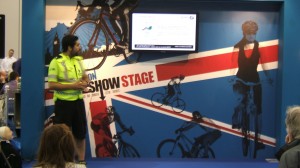 During the day there was a range of displays on the show stage ranging from wheel truing and group-set maintenance to a 'cycling specific' first aid display by the St. John's Ambulance Service. I thought this was a great idea when I saw it on the timetable and I think it is something that everyone should have a knowledge of (whether their on the bike or not in fact). The presenter lacked a certain, je ne sais pas and I found myself being distracted by other shiny things close to me and soon moved on.
Another Skoda but this time it was topped off with the new Rapha Condor Sharp bikes. The boys in pink and black are a particular favourite team of mine and it wasn't until I got home and saw on Twitter that one of their star riders, Dean Downing was due to be there on the Friday to meet and greet. In hindsight the first day of the show may not have been the best day to attend especially as it was on a Thursday when most people have to be at work and I'm sure as the weekend goes on and the buzz is created it will begin to feel like a different event.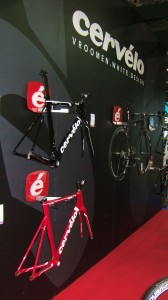 In a very similar scenario to what will be known from now on as 'the Cinelli moment' I did stand drooling for a while at the Cervélo stand. I have recently bought my first all-carbon bike and I love it like a man shouldn't love a machine but due to Cervélo being my personal pinnacle of design and construction I felt like a very naughty boy starring at these machines and had to apologise profusely to my Dedacciai beauty when I got home.
Despite my initial reservations I did have a good day at the show and will almost certainly be going back next year. I believe a lot of my issues with the show arise from it being so new and competing against two established Expos under the same roof. With the ever increasing interest of cycling in London and the rest of the UK this show should, in time,  become a must see annual event in London, I'll let you know when that happens.
The London Bike Show started onThursday 13th and runs through tomorrow at ExCel, London.
@StevieDexter is from Whitstable, Kent UK….he rides a bike and is an all around super cool guy.  Be sure to follow him on Twitter.