2013: The #LuckyYear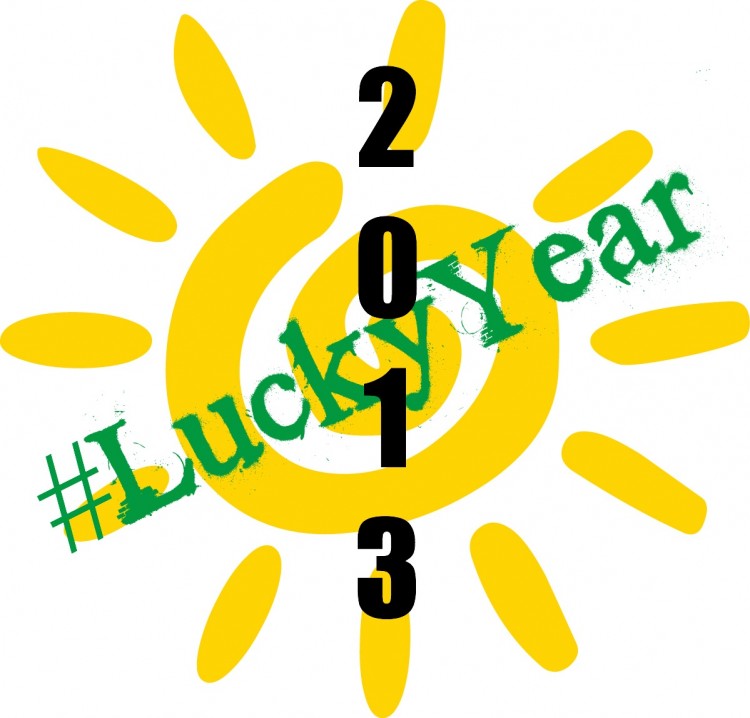 At the beginning of 2012 I declared it to be the Year of the Rockstar.  I told you all to be bold, put a swagger in your step, and make it the year where you make big things happen…..Rockstar Style.
Well, it's one year later and before going out there to ring in another new year tonight, I want to hear all about the #Rockstar things you've been up to in 2012.
This isn't the time to be humble and hold things back….give me all the goods.  Brag about yourself, celebrate your accomplishments, and tell us all how you lived life to the fullest…..both on and off the bike this year.
I tend to be quite reserved, but to help bring out your proud and boastful attitude, let me go over some of the Rockstar things that went on for me in 2012:
Kickoff in Hawaii – My Family and I were lucky enough to watch New Years 2012 Fireworks in Hawaii with my Parents and Sister's Family.  There's just something about Hawaii that has Rockstar written all over it.
Met other Rockstars – I was lucky enough to meet several super cool cyclists in 2012, but meeting up with Artcrank (Charles) and Dex Tooke were major highlights.  Both of these guys are seriously rocking the cycling scene….just in totally different ways.
Destination Riding – Riding a bike is Austin is pretty darn amazing, but getting the chance to ride in other parts of the world is downright Rockstar.  In 2012 my bike and I rode the streets of Saskatoon (SK), Las Vegas (NV), Bonaire (Dutch West Indies), Chandler (AZ), and Grenada (West Indies).
Interbike in Las Vegas – If you're into cycling, Interbike has got to be the biggest Rockstar event of the year.  Up until now I'd never taken part in this massive bike event, but I was there this September and had the most excellent time.  It really is one of the coolest cycling events you'll ever experience.
Big Numbers and Increasing Traffic – Loving the Bike and Cycling 360 had impressive numbers in 2012, and traffic continued to increase all year through.  Being a blogger (and podcast co-host), there is nothing more gratifying then having people dig what you're doing.  A huge thank you goes out to all our loyal followers…..you make me feel like a total Rockstar.
Bike Expert on bing.com – One of the biggest highlights of 2012 has got to be when bing.com hired me as their riding expert for their summer promotion.  It still blows my mind that they would choose me for something like this, and when I saw what kind of people they were bringing in as experts for other weeks….I was feeling very unworthy.  If there was one thing that happened in 2012 that made my Year of the Rockstar prediction come true….this was definitely it.
Moved to Grenada – Moving my Family from Canada to Austin, Texas was one of the best things I've ever done….but we knew it was only going to be a stepping stone to something equally adventurous.  In true Rockstar style, our Family packed up our life (and bikes) and in November we moved to the tiny Caribbean island of Grenada.
The true Rockstar part of this move is still to come.  It's my mission to make this place a more bike friendly island, and to enable more people to get around by bike.  I'm working on it.
Yeah, I'd say it was a pretty Rockstar'ish year….so what about 2013?  Well I'm going bold again and calling it #LuckyYear.  The 13th has always been a lucky number for our Family so that's part of it, but I also just have this feeling that the year's going to bring some prosperous and advantageous things.
There's no time like the present to get out there and live each and every day to the fullest.  I hope you don't simply do what matters…..but focus your attention this year on what matters MOST.  Continue to live life to the fullest both on and off the bike, and as always….Enjoy Your Ride.
Still looking for something to drink or eat tonight?  Try these "lucky" recipes recommended by Kelli for New Year's Eve.
Happy 2013….#LuckyYear