3-Speed Gearbox: Alternative to Front Derailleur
Efneo's 3-gear front gearbox
by Franciszek Migaszewski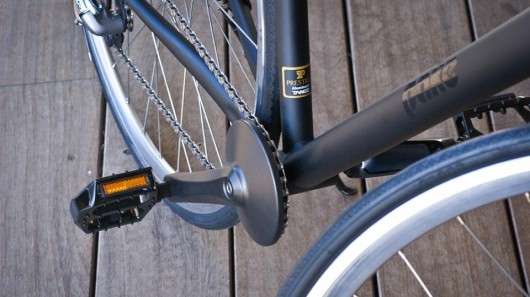 How many time have you thought, "I hate my front derailleur"?  Now it seems you have an alternative that looks great and offers some cool advantages.  Efneo has launched a campaign on Indiegogo for their 3-speed front bicycle gearbox.
It's maintenance free and shifting gears is much quicker and easier than with a clunky front derailleur.  Moreover, you can shift gears after you stop which makes starting much easier – you downshift to the first gear like in a car and go.
The gearbox is dedicated mainly for city, hybrid, trekking and folding bikes.  It can be also a great upgrade for a single-speed bike – it may still look clean and sleek and be a bit easier to ride.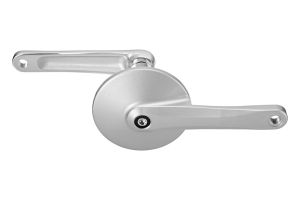 It works as a planetary gearbox – like most Shimano, SRAM and others' IHGs.  And it's a bit similar to the ones like Truvative Hammerschmidt, Patterson Mobility, or Schlumpf.  However, the main trick is that it is a 3-speed system with gear ratios almost the same as in a standard three chainring crankset.
The problem with 2-speed systems like Truvative is that all of them have a gear ratio of at least 66% (the difference between the gears).  It is almost as much as between 1st and 3rd gear in your three chainring front crankset.  It is simply too much for comfortable gear shifting.  When you upshift you feel too much resistance.  When you downshift you feel like your leg is falling down in a hole.
With this 3-speed system, the bicycle is much more naturally configured.  One can use 2nd gear as "neutral" for riding on flat area, 1st gear for climbing, and 3rd gear for down-hilling.  And what is a "neutral" gear in a 2-speed system?
The manufacturer says the gearbox can be used in two different applications:
1. as the only gear-changing mechanism – for example for single-speed cyclists who want to upgrade their bike – with Efneo gearbox it still looks clean and smooth like a single-speed, but it's much more comfortable to ride; with a 2-speed system it would make no sense and nobody is doing this
2. as an alternative to a front derailleur in trekking and urban bikes paired with a rear dereailleur or a rear hub gearbox. In this case you can have a vast gear ratio (even 600%) and still have the advantages like gear shifting at stop and beautiful look.
The good thing is that it fits most bike frames without any modifications.  Everyone who can remove a crank can also install the Efneo gearbox easily.  More details at www.efneo.com/gearbox/.
Now you can pre-order it on Indiegogo for US$220.  Deliveries planned for August.