5 Easy Ways to Stay Healthy While Travelling
One of the cool things about living in a place like Grenada, is you get to meet people from all over the world.  A couple hardcore travel bloggers have been here for the past few months and I've had a great time getting to know them.  They've been on the road for the past 5 years and never plan on stopping.  It's very inspiring and exciting.
Today, Nick from Goats on the Road is here to tell you about:
5 easy ways to stay healthy while travelling
Whether you're going on a vacation, or on a round-the-world trip there's always the risk of becoming unhealthy. Those beach bars, hammocks and lounge chairs can be all too tempting when you're on the road, which is why so many people gain weight, eat junk foods and become lazy.
So, how do you counteract the backpacker belly? How can you get motivated to work out while on holiday? What steps can you take to keep your body in tip-top shape?
Take Your Vitamins
Some places in the world simply don't care about a balanced diet. You won't find beef in India, you'll be eating a lot of greasy food in China, loads of carbs in Italy and no vegetables in Mongolia! If you're planning to go to a country where you know your diet will be lacking some essentials, take some supplements with you. Heading to India? Consider bringing some iron pills. Planning a trip to Mongolia? Pack along some omega, vitamin A and vitamin C pills. Another idea is to pop some probiotics as well, these help immensely when it comes to fighting off stomach and digestion problems.
People always talk about mental culture shock when they visit a new place, but your body doesn't need to experience physical culture shock as well. Take some supplements to try to balance your diet. Make sure you're getting everything your body needs to stay healthy.
Trek
One of the great parts of travelling is having the opportunity to get out and go for a good hike. Instead of just lying around your hotel's pool or sipping margaritas on the beach, consider exploring your destination on foot. You don't need to go for a multi-day trek (although they are often highly recommended), you just need to get out and go for a walk. In Grenada, and many other parts of the world, you can take part in a Hash. Hashes are a social run/walk, where lots of locals and travellers meet up and head off into the hills to get some exercise. This is a great way to meet new people, get a good workout and see parts of the country that you would otherwise miss.
Do Yoga
Yoga is possibly the best exercise that you can do while on the road. You don't need much, just a few minutes a day and some will power. You don't even need a mat! If you're heading somewhere on the beach, considering hitting the sand in the early morning or during sunset and stretch it out. Don't want to be in public? Even if you have a tiny hotel room, you should still have enough space to do some classic yoga stretches. A great way to keep up with yoga on the road is to check out YouTube for some free classes from beginner to intermediate. Follow along and get your stretches in every day, you'll feel much better for it.
Eat Well & Cook For Yourself
It's not always easy to eat well while on the road. In countries like Mexico and England, the national cuisine isn't exactly the healthiest. Think deep-fried meat pockets, fish'n'chips and a ton of beer! But you don't always have to eat the fattening local food. While you should definitely try all of the best national dishes, consider renting an apartment so that you can cook some meals for yourself. Head down to the docks and pick up the fresh catch of the day and prepare a delicious fish meal! Loving The Bike also has some great recipes like this one that can easily be cooked in a hostel or apartment kitchen. Not only will cooking some meals for yourself be good on the waist band, it will also be good on the wallet, as food bought in grocery stores is much cheaper than at restaurants.
Travel On Your Own Steam
Probably the best tip for staying healthy while on the road is to travel by bike or on foot. Consider a cycle trip so that instead of taking a bus or taxi, you can ride your bike from point A to point B. If you don't want to pack your bike on the plane, consider renting a bike at your destination. There are usually dozens of places for bike rental and you can get out of the city, town or village and really go exploring.
Make sure your backpack's comfortable! This was an exceptionally heavy day of trekking in Mongolia.Another great way to travel is by foot. Pack extremely light and just carry a small backpack from one place to the next. Walking around on foot is a great way to see a country, meet new people along the way and get some exercise while travelling.
Stay Fit, Stay Active & Stay Travelling!
There you have it… 5 easy ways to stay healthy while on the road. It may not be the most enjoyable thing to think about when you're planning for a trip, but along with the beaches, swim-up pools and spas, consider adding some fitness to your travel plans. Staying fit and eating well will not only make sure that you don't gain unwanted weight while on the road, but it will help your immune system to stay strong and fight off any viruses and bacteria that your body may not be used to in a new country. As always, keeping active and eating well is a great way to stay happy and healthy on the road!
Author's Bio:
Nick and Dariece are the couple behind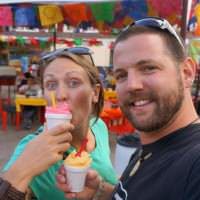 Goats On The Road, a website designed to inspire others to live a financially sustainable, location independent lifestyle. Masters at making money abroad and turning their travels into a way of life, they've been on the road since 2008 and have explored some of the least visited places on earth, finding adventure wherever they go. They're also full time contributors at Travel Pulse and Credit Walk where they share their stories and expertise of long-term travel. Check them out at Goats On The Road and follow them on Twitter, Facebook & Google+.