5 Great Places for a UK Cycling Holiday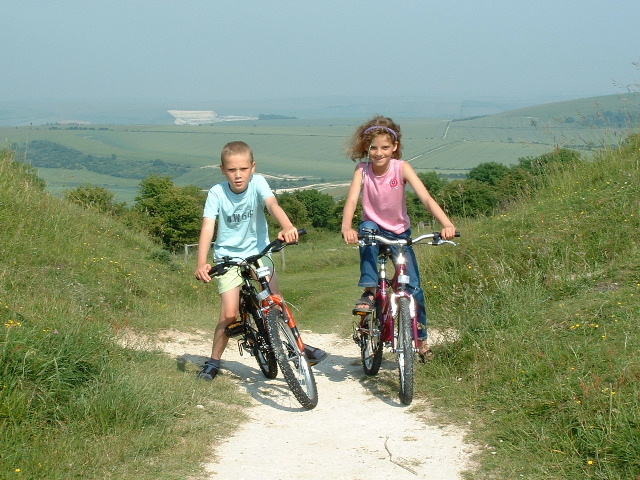 Cycling is a fast growing way of travelling for people of all ages and the UK is a great place to pedal. You can easily find routes where cars are not allowed or seldom seen, and the only signs of life will be wild animals, cows munching off in the distance, or a fish jumping in the water. Be sure to slather on your sunscreen before heading out to explore these exciting places!
The Cotswolds
The Cotswolds is located in south central England and it is a rural area that covers the six counties including Oxford and Gloucestershire. If biking past thatched roofed medieval villages, yellow limestone buildings and cycling up and down rolling hills appeals than this is the place for you. There is even a route that goes along the train tracks so you can hop on the train to return at any station if you so desire. Cycling has also been proven to make you happy, and cycling in this gorgeous part of the world.
The South Downs
The South Downs referred to by many, as the lungs of southeast England, are an area of picturesque villages, chalk hills, and rolling greenery that are nestled between London and the south coast, ideal for weekend breaks away from the City. There are many lovely routes here for cyclists of all ages and stamina levels. The South Downs Way begins in Hampshire and ends in East Sussex. It is 160km of grassy paths and an elevation of 4000 metres that will challenge your stamina frequently. Check out the imposing hill fort of Old Winchester Hill that dates from The Stone Age. Travel to Clayton and check out the impressive windmills that line the coast that once ground corn. Stop for a bite to eat at one of the many impressive pubs or cafes.
Scotland
Take a trip to Scotland and spend your vacation riding through the heart of the highlands in search of beautiful castles connected by stunning scenery such as fields of heather, Scotland's Castle Trail. The trail begins in Perth, which is slightly over an hour by train from the major cities of Edinburgh and Glasgow, and it is 305km long. Scone Palace, Blair Castle, and Glamis Castle are just a few of the majestic castles you will pass on your route.
Yorkshire
Yorkshire is a historic county in Northern England that is filled with Viking and Roman heritage sites, Norman castles, and two national parks. The county is the biggest in England and it is 11,000 kilometres squared so unless you have unlimited time you will not be able to see everything that this area has to offer. Consider trying the 242 km circular route of Yorkshire Wolds. You will ride along quiet country roads, cycle paths and country lanes. You can stop for a picnic at the ruins of the Kirkham Priory, ride by the Gothic beauty of Beverley Minster, and stop to view the Tudor Rose window in the stunning York Minster. The perfect way to experience Yorkshire is to rent a large holiday home and explore the magnificent county at your own pace.
Wales
Visit Wales and head to Carmarthenshire and try out the Celtic Trail for a cycling adventure.   The Challenge is the longest circular route available and it is 230 km long. The route begins in Carmarthen and the route travels through Fishguard, St David's and then returns through Haverfordwest and Tenby. Along the way you will see the Preseli Hills and the dramatic Pembrokeshire coast as you travel along quiet coastal roads.
Photo c/o commons.wikimedia.org