8 Reasons to Register for the Team LIVESTRONG Challenge Austin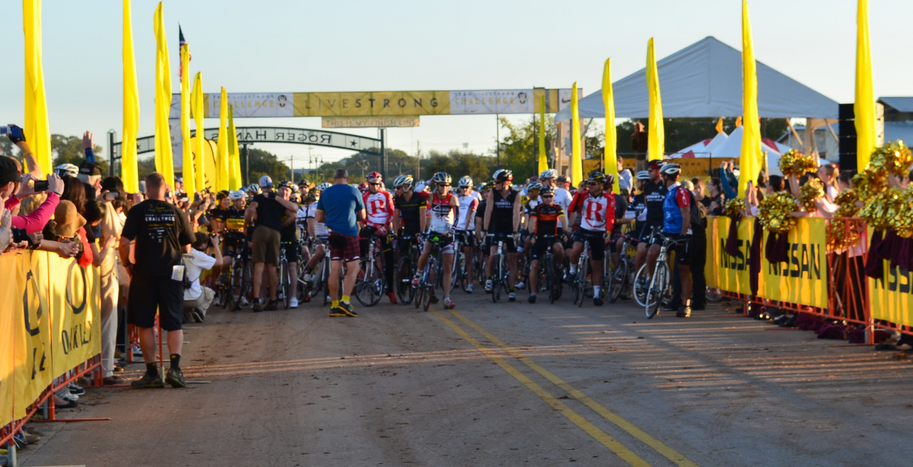 Ironically, I might not be able to ride in the LIVESTRONG Challenge Austin this year…it will be the first time I've missed it in a long, long time.  But I do feel that YOU need to take part in this fantastic event, and here are 8 reasons why.
Be sure to check out reason number 8 which includes your chance to win a Team LIVESTRONG jersey, Mellow Johnny's Jersey, or Team  cycling cap.
LIVESTRONG Challenge Austin – Sunday October 21, 2012
Register right now: Click to REGISTER
8 Reasons Why You Should Take Part in the Team LIVESTRONG Challenge Austin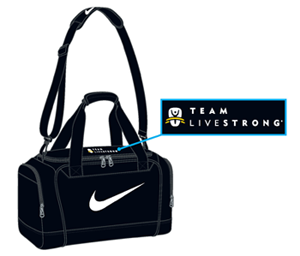 1.  No Fundraising Minimum: In the past, riders have always had to raise at least $250 on top of their registration fee in order to qualify for the ride.  This year, all you have to pay is the $50 sign up fee….but of course, there are some great incentives for you to collect donations as well.
2.  Fifteenth Anniversary: This is the 15th Anniversary of the Team LIVESTRONG Challenge and you just know that they are going to go all out with this one.  I've been to several different events put on by LIVESTRONG, and I can personally tell you that they never do anything less than put on a spectacular event.  I'm pretty sure they'll go over the top for this commemorative year.
3.  Austin Rocks: Yes, it's true.  Austin just might be the coolest city on the planet.  We'd definitely like for you to sign up for this Challenge, but if Austin is a little too far away for you then look into signing up for the Davis, California or Philadelphia, Pennsylvania Challenges.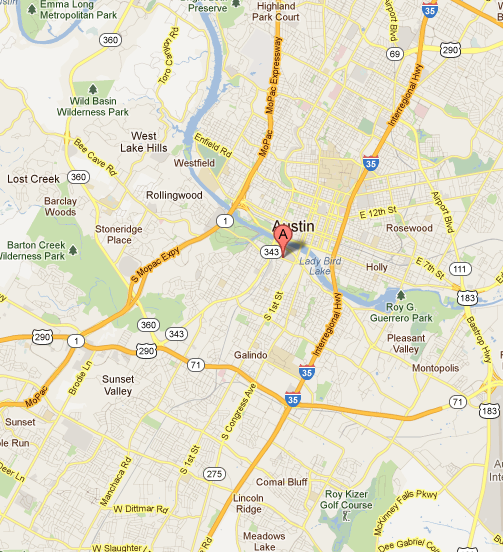 4.  Bringing it DOWNTOWN, Baby:  If there is one thing I could suggest to make the Team LIVESTRONG Challenge even better than it already is, it would be to devise a route so that people cycled out of and into downtown Austin.  I honestly said that to some riders while doing this event last year.  Looks like someone heard me because LIVESTRONG just officially announced that the 2012 version of the Challenge will roll out and finish up in the heart of the city.
Earlier on, the Challenge was held on the far East side of Austin and the route took riders out in the country.  For the past few years the ride has started and finished in Dripping Springs taking riders on a beautiful hill country journey.  But nothing could be better than having things start and finish on the north side of Palmer Events Center on Riverside Drive.  I am so pumped about this one.
5.  Teams: One of the coolest things about the Team LIVESTRONG Challenge is that it brings in teams from all over the world.  It's so cool to see all the teams decked out in their matching kits, and what's even cooler is that they created these teams and kits for the sole purpose of riding in the  Challenge. Many of the teams are created to pay tribute to cancer victims, and some are created just for the fun of it all.  You don't have to ride on a team, but the comradery and support of a team is pretty awesome.
Last year, I rode with the Kollective Fusion team and if you'd like to be on a team and don't already have one, I would strongly recommend you hit up @bdix73 (Bobby Dixon) and talk to him about being a part of this one.
6.  Lance Spotting: The LIVESTRONG organization always mentions that they can't guarantee that Lance will be live and in person at the Team LIVESTRONG Challenge Austin….but in all the years I've done it, there hasn't been one that he wasn't there.  He might not be on hand for the Challenges in Philly and Davis, but I know the Austin version is one that he always makes a point of being at.  This is his home, after all.
Lance often brings along some of his celebrity friends as well. Robin Williams, Levi Leipheimer, and Patrick Dempsey are just a few that have been a part of it in the past and if you're in the right spot (like my friend @cyberjunkie21 was a couple of years ago), you can ride along with one of them for a while.
I can't guarantee that he will be there this year, but being that this is the 15 Anniversary….you should be able to bank on it.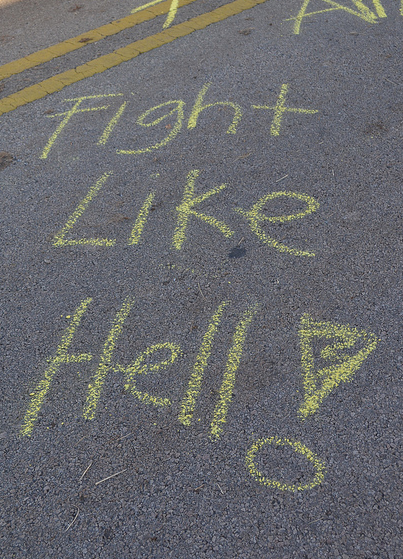 7.  Kick Cancer's Butt: There are a lot of great organizations out there raising money for the fight against cancer, and many of them involve cycling events.  Each of them are deserving of your attendance and attention, but why not add the Team LIVESTRONG Challenge to your charity ride list?  I'm speaking from my heart when I say that on each and every Challenge that I've been a part of, I come across the finish line full of emotion and pride.  This is one incredible organization and they make everyone involved feel like a Rockstar.
8.  WIN, WIN, WIN: The reasons above are more than enough for you to want to take part in this years 15th Anniversary of the Team LIVESTRONG Challenge, but to sweeten the deal even further we're giving away some cool swag.  Details below.
We're only offering this bonus giveaway for a week, so REGISTER NOW.
Win a LIVESTRONG or Mellow Johnny's Jersey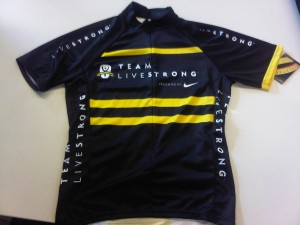 We encourage you to still register for the Team LIVESTRONG Challenge, but our giveaway is now over.  Congratulations to these winners:
Bethel Strong – LS cycling cap
Adam Shepard – LS cycling cap
Christina Jones – Team LIVESTRONG cycling jersey
Nic Lindbergh – Mellow Johnny's cycling jersey
We've teamed up with the great folks at LIVESTRONG and are giving away a 2011 Team jersey, Mellow Johnny's jersey, and Team LIVESTRONG cycling hats.  Here's how to get in to win….three simple steps:
1.  Go HERE TO REGISTER for the Team LIVESTRONG Challenge (Register as an individual, join a team, or create a team) – Only $50, and no fundraising minimum.
2.  Leave a COMMENT below letting us know that you've registered, and what your number one reason is for doing the Challenge.
3.  Tell your FRIENDS:  Tweet, FB Post, or G+ this bonus deal….telling your friends about registering now so they can be in to win one of these great prizes.  Include #LIVESTRONG and #LovingtheBike in your tweets, and tag LIVESTRONG and lovingthebike in your FB and G+ posts so we can find them.  We'll give you a bonus entry if you do this step.
Anyone who registers for the Team LIVESTRONG Challenge between right now and Noon, May 15th are in to win one of these fantastic prizes.  Winners will be selected randomly and announced on the 16th.
Photos c/o LIVESTRONG