A Beginners Guide to Loving the Bike
There are several great articles out there letting beginners know how to get started in cycling, but we're here to lay down ideas for how beginners can start loving it.  Think of it as a "how to" love cycling so much that you'll never want to stop.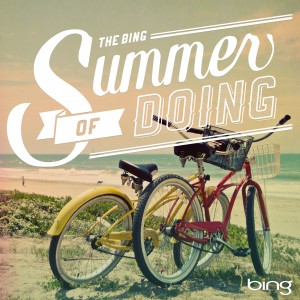 Today is officially "Bicycling" day over at bing.com as they continue with their #SummerofDoing promotion and this week's theme of "Riding".  With the help of bing, we plan on getting a whole mess off people on bikes and help them discover just how incredible it can be.  (Be sure to use the hashtag #bicycling as often as you can today in honor of bing's designation of this day)
Our cycling lifestyle website is generally focused on people who are already Loving the Bike, and are as pedal crazy as I am.  But being strong advocates of cycling and promoters of how everything can be better when you live by bike, we're focusing today's post towards people new to the idea of cycling.  We're going to lay out all the goodness and show how to start Loving the Bike in no time.
As part of my bio for this website, I mention reasons in which I personally am Loving the Bike:
I am loving the bike because it provides me with a means to keeping my body in good physical condition while enjoying every single minute of it.  
I love it because of the solitude and meditative state that is brings me to every time I'm on it.
I love the connection it gives our family when out on a ride together.
I love the camaraderie and brotherhood among riders.
I love the speed and knowing that I am moving myself solely by my own power.
I love the fact that there is no better means of environmentally friendly transportation than the bike.
I am simply loving the bike.
But enough about my own reasons….to really get things going, we asked some of our loyal followers to provide their suggestions on getting new cyclists addicted to our beloved sport.
Here's what they had to say:
"Ride slowly enough to truly enjoy that you're not enclosed by metal, glass, and plastic, not insulated from the smells and sounds and sights and all the other amazing sensations you experience on a bicycle. Be aware so you can turn around and explore those things you pass slowly enough to intrigue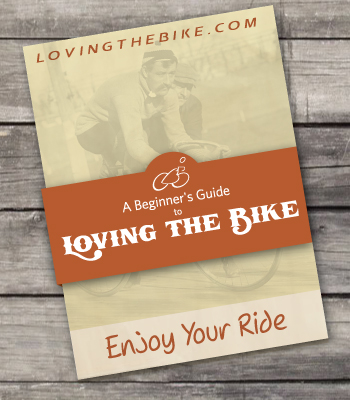 you.  Ride for the riding, not for the getting there." – Tee King
"Find a road or path that isn't very busy.  Go out just as the sun is going down.  Pedal your hardest for just a little bit, then coast…and just…listen."  – @AarontheStrong
"Get a good quality bike.  Those cheap ones from the box stores will not provide you with a comfortable and stress free ride.  Pay a bit more and it will go far in helping you love cycling." – Albert Schmidt
"Enjoy it.   Cycling is not only great for your health, but it opens your eyes to  the wonderful world we actually live  in.   Find a good bike, don't worry too much about the tech just yet and just get out there."  – Tom – Founder of Bikes on Point blog
"See the countryside properly at a slower pace, enjoy the company of your family, and get fit without noticing." – @nuuutymel
"Just start out slowly.  Don't worry about the miles or time.  Ride with how you're comfortable at first." – Dan Beaman 
"Be confident on your bike and 'own the road'.  Hiding in the gutter is much more dangerous than making yourself visible to all the other traffic.  Use bright reflective clothing and a good confident road position to stay safe." – @steviedexter
 "Don't feel like you have to spend money on expensive clothes and gear.  Just wear what you are comfortable in." – @naptowncycle
"Find a local cycling group that likes to develop riders and not into riding like they're competing in the Tour de France.  It's so much more fun to ride with people who have the same interest level as you. They will help you and you will love it!" – Jeff Wolach
"Don't worry about all the fancy technology stuff right away.  Have fun learning to pedal, then add the technology after you already enjoy cycling." – Twenty-niner Chick
"Just ride at your own pace, enjoy the freedom, sights, smells and people you encounter.  The rest will follow." – Synthea Devery
Okay, it is easily apparent that the list can go on and on.  But let me give you one last nugget to start off your Loving the Bike journey.  Find out what part of cycling speaks best to you, and go for it.  Whether it's riding along the beach on your cruiser, going off-road on your mountain bike, speeding along on a road bike, or just riding around your neighborhood…..get on your bike and ride.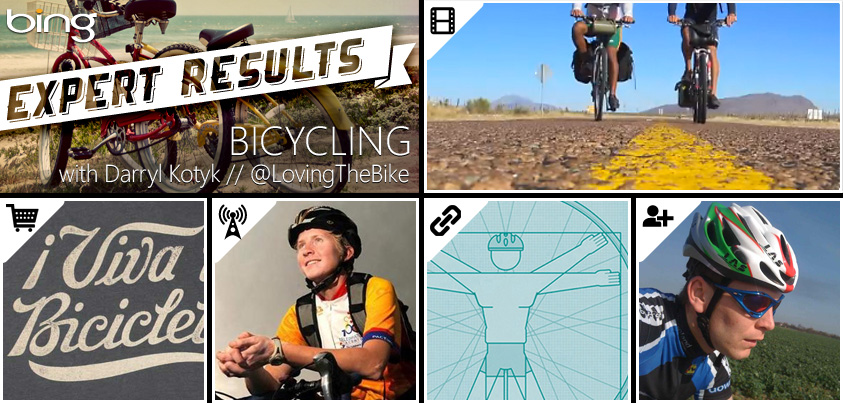 Win a Custom-Made Public Bike
We'll have more details posted later today, but be sure to head over to bing.com and enter to win a special edition public bike.  They are giving away 5 prizes of $1,500 to put towards building your own sweet ride from Public Bikes.  Enter now, and watch for more details on our site later this morning.
Beginner's Guide to Loving the Bike image c/o Scott Thigpen