A Giant On His Bicycle
I'm not a very big guy…..not quite 5'5″ and with all the cycling I've been doing, I'm down to around 120 pounds.  But when I'm on the bike, I feel like a giant. Yeah, I know you know the feeling….Unstoppable, Invincible, Indestructible.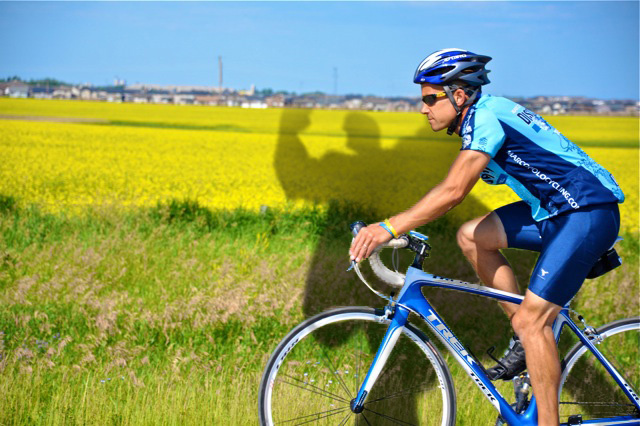 This "Bike Confidence" almost got me in a heap of trouble on my ride a couple days ago.  It was a funny situation actually, and it went something like this.  I was approaching a traffic light that I have to pass in order to get onto the highway that feeds a lot of my riding.  As I got there, I could see that the red light would be changing to green very shortly so I slowed into it knowing that I wasn't going to have to come to a stop.  There was only one truck waiting there for the light to change so that he could turn left.   Just as I got there, it turned green and I cruised through making a wide left turn so that the truck had more than enough room.  As I was turning into the bike lane, the truck still hadn't come up beside me or passed so I glanced back to make sure he hadn't decided to go straight or something.  As I started off from the turn, the truck came up beside me and the guy inside started waiving his hands around in a mucho angry fashion.  I was totally caught off guard as I had done absolutely nothing that could have riled him up (I have to admit that there have been times that I've done something that I could see would cause someone to get upset….but definitely not this time).
Okay, so here comes the "Bike Confidence".  As he was looking right at me and waiving his hands around, I looked him right in the eye and very loudly said "What the %#@* is wrong with you?" Yeah, I honestly do not usually swear…but the odd time it just comes out.  As soon as the words shot out of my mouth, I envisioned him either driving me into the ditch or trying to hit me with his truck (Did I mention that this dude was likely around 250 pounds and pretty scary looking?).  Off the bike, I probably wouldn't dish out words like that to a guy that big…..but on the bike, I feel 10 feet tall. Able to stand up to any mountain, terrain, or big dude in a truck.
He drove a little farther ahead and then gave me the proverbial "finger" out his window.  All I could do was laugh at him in reply.  As he drove off, the last words I yelled out were "Get yourself a bike….it will help with your stress".  I'm not sure if he heard that part, but it felt really cool to say it.
I honestly still do not know what I did to get this guy going….all I can think is that it really bothered his ego having a bike beat him off the line.  Lucky for me, the jesters and finger were all he was delivering that day.
How about you?  Do you feel like a giant when you're on your bike?  Let's hear your stories.