A morning ride with Mark Cavendish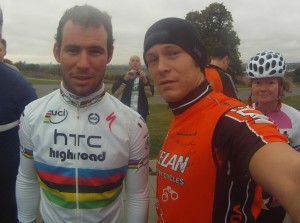 This morning I took part in a group ride with Mark Cavendish at the Redbridge Cycle Centre near Ilford in East London. I was lucky enough to win a place after entering a Facebook competition run by Holiday Inn who are the official hotel sponsors of the London 2012 Olympic Games. The day started with an early rise for me at 05:30 to ensure I got through the rush hour traffic with enough time to make the short but busy route from the M25 towards Central London. In fact although I did leave early enough to make it through the majority of the traffic the last 10 miles were absolute chaos on the road so the car got dumper somewhere in Essex and I rode the rest of the way.
Once I arrived there was a quick sign-in procedure to make sure there weren't any gatecrashers and we were given a Holiday Inn Olympic promo jersey. Unfortunately they only had small left by the time I arrived (which was by no means 'late') so I decided that would be the perfect gift to get signed for @SophiaaJoy, who is the BIGGEST Mark Cavendish fan. Once he'd done a bit of signing, it was time to ride. We lined up… and well… see for yourself! The first video was shot by me using a GoPro Hero helmet camera and the second was shot by a film crew from Tri247. You should be able to spot me easily in a few places… bright orange club kit is good for that!
[youtube]http://www.youtube.com/watch?v=P9unLWx2zNg[/youtube]
My ride footage
[youtube]http://www.youtube.com/watch?v=7Lz146Bs91k[/youtube]
A film of the day (I'm in orange)
[youtube]http://www.youtube.com/watch?v=BFHPI1MikGo[/youtube]
Mark still clinging to his Specilized
[youtube]http://www.youtube.com/watch?v=pIVZtFLG0K4[/youtube]
Apparently all riders LOVE Haribo… remember that, she made his day!
I'd like to say a big thank you to Mark and the organisers who put on a really well run morning. I've heard lots of people say how accommodating Mark is and he lived up to that image today. He spent almost as much time posing for photographs and signing anything that people could find to write on as he did riding and I don't believe anyone will have left the track without thinking, "My oh my that Cav bloke is a thoroughly nice chap". To be honest a few years ago I could take or leave Mark. I believed him to be quite arrogant and that's something I despise in a world class sportsman. But he's not, he's really not. That sheer desire, passion and merited self-belief can somtimes be mistaken for arrogance and over the last couple of years, after immersing myself in the cycling media, it's become clear he is generally a quiet calm guy… and bloomin quick too!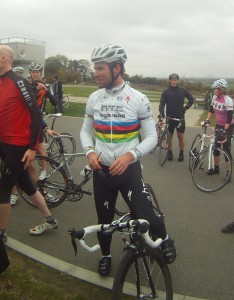 There may have been lots of riders there today but for a short time I rode on the front of the bunch, shoulder to shoulder with Mark Cavendish MBE, World Champion and Tour de France Green Jersey winner.  The videos, the pictures and the signed booty are all nice mementos of the day  but I can assure you that I will not forget the day I took a morning ride with Mark Cavendish.
Stevie