A One Paragraph Review of 5 Cycling Books
Seems like there is an overload of bicycle inspired books out there right now, and we're here to give you a one paragraph review of five of them.  We're just giving you a quick review of each one so that you can spend your reading time on the books themselves, and not the review.
I am a self-proclaimed Turtle Reader which means that it takes me like forever to get my way through a book.  I've also become a bit of a skimmer recently as well.  But I made my way through these books and I think that each of them is diverse enough from the other to help you find one that speaks to you.  These days you can get a regular book, online version, nook, and probably a few others….I'm a traditional book kind of guy but pick the one that works best for you.
Oh, and we'd like to give away a four pack of the Yehuda Moon series to one of you as well.  See below for details on how to enter.
RIDE: Short Fiction about Bicycles (various authors)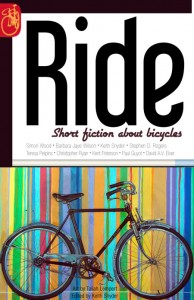 As you can likely make out from the title, this book is composed of a bunch of short fiction stories about riding a bike.  There are nine stories to be exact.  Each of the stories are as different from one another as the people who wrote them, but there is a nice flow that transcends through the entire book making it a seamless journey from start to finish.  I think that flow comes from the fact that each of the contributors to the book are crazed bike fanatics themselves, and their love for the bike comes shining through in each captivating story.  It's hard to cut out one story and praise it as being the best because each of them have their special ingredients making them enjoyable and unique in their own little way.  With that said, I would like to mention that one story in particular stayed with me after finishing the book. I've seen a few other reviews of this book, and I know I'm not alone in saying that "Red Dot" by Barbara Jay Wilson lays out a story that is sure to put a smile on your face.  I'm only guessing, but I'm pretty sure that Barbara Jay Wilson is a person who spends a lot of time out there on her bike connecting with the beauty and nature that surrounds her.
Grab a copy and increase your bicycle fanaticism: www.ridebikefiction.wordpress.com
Comedian Mastermind (Fat Cyclist)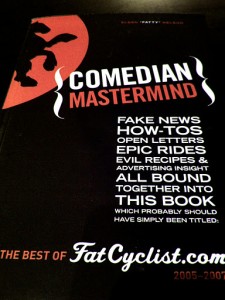 You've likely heard me call Elden from Fat Cyclist the kind of the cycling blogs.  This dude has an incredible following and he's done some wonderful things and raised a lot of money for cancer awareness.  Comedian Mastermind is a collection of his blog posts from 2005 to 2007.  Yeah, I know what you're thinking….these kinds of books always seem to be a little choppy and don't flow very well.  But they do a good job of organizing the content by topic and because Elden Nelson (aka Fatty) is such an entertaining writer, you won't even notice any flow issues.  On top of it all, Elden is an authentic dude and from the couple of times I've talked to him he definitely seems to be a great guy.
If you like dig cycling and like to laugh, grab your copy of Comedian Mastermind at www.fatcyclist.com.
Twenty Miles Per Cookie (Nancy Sathre-Vogel)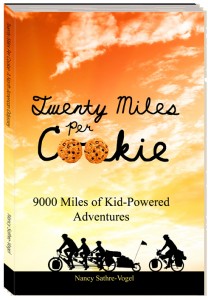 I've gotten to know Nancy from Family on Bikes quite well over the past couple years and I was thrilled when she asked me to check out her book, Twenty Miles Per Cookie.  Now I know enough about Nancy and her adventurous family to not need any coaxing to read about their life stories, but if you don't know about these incredible people let me tell you why you should read this book.  This book is not about their epic ride from Alaska to the tip of Argentina, but about the trip that started it all off.  This one is the entertaining story of two schoolteachers and their twin eight-year-old (at that time) boys, and 9,000 miles of real life bike adventures around the United States and Mexico.  I would really love to sit down with Nancy and her family and hear about all their bikey adventures first hand….but this was definitely a good alternative.
Twenty Miles Per Cookie is available through Amazon, click here.
Cycling: Philosphy For Everyone (Ilundáin-Agurruza and Austin)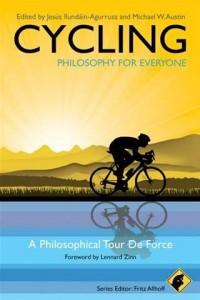 This is the only book of the five that was not given to me by the author for review.  Instead, it was given to me by my good friend @PedalmanTO who just happens to be a book (and cycling) expert.  If it's good enough for him to highly recommend and encourage me to read, then it's got to be a book worth your time.  I have to be honest about something….I haven't quite finished this book, but I wanted to include it in this 5 book review.   This one is sort of like "RIDE" in that it's written by a bunch of different authors but put all together by the editors.  This book has something for all types of riders and all types of interests.  If you haven't been out riding lately as much as you'd like…this book is sure to inspire and remind you how much you are loving the bike.
This book should be available at any bookstore, but also available at Amazon.
Yehuda Moon Volumes 1-4 (Rick Smith and Brian Griggs)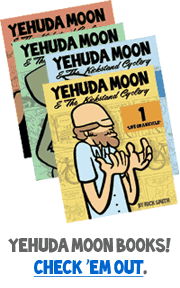 If you're not all that into traditional book reading and are more of the comic book reader, this one's definitely for you.  Yehuda Moon and the Kickstand Cyclery started off as an online webcomic at www.yehudamoon.com that ended in September 2011, but grew into four full-out comic books which are now available.  I think you have to be a cyclist to get a lot of the humor found in these comics, but all four volumes are full of the great "four panel" comic strips about the adventures of two bike shop owners, Yehuda Moon and Joe King.  If you loved comic strips as a kid or just love comedic and light cycling reading, pick up one or all four volumes at the Yehuda Moon Shop.
Win a Yehuda Moon Prize Pack
We're giving away a prize pack that includes volumes 1 through 4 of Yehuda Moon and the Kickstand Cyclery.  If you'd like to get in on a chance to win, we need you to leave a comment below telling us:
What your favorite cycling book is
Why you'd like to read Yehuda Moon and the Kickstand Cyclery
Contest is open from right now to Noon EST, March 30th.
The Contest is now Closed….Congratulations to Brian Campbell (@mooseofblue).  Brian wins a set of the Yehuda Moon and the Kickstand Cyclery book pack.  Thanks to Rick Smith and the crew over there at Yehuda Moon, and thanks to all of you who entered.  It's a great book, so be sure to pick up a copy for yourself.