A Plea from a Runner
We're very happy to have a guest post by our Running Sister, Brady today……we're not related, but we like to think of her as our online blogging sibling.  Yeah, she's a runner…..but she's part of the family.  What can I say?
A Plea from a Runner
By Brady Gervais
There are runners who also bike, cyclists who run, and I fall into neither category. Not really, anyway.
I'm a chronically injured runner who finds herself in the saddle out of necessity. When I need to stay fit while I'm off my feet, I turn to the bike. It's better than the alternative: swimming.  My breast stroke is as good as a rock's.
But, I have a confession: I dislike biking.
A few weeks ago, I bought padded cycling shorts and then went for a ride on a warm fall day along the Chain of Lakes in south Minneapolis.
For about two hours, all I could think about was how much I'd rather be running instead of pedaling. I also thought about what I'd write for this post. I didn't want to disappoint Darryl.
During that ride, I didn't get an adrenaline rush or feel the sense of peace I derive from running. I couldn't be alone in my thoughts about life, work and love. I had to pay attention to the path. I had to be careful.
When I run, I remain alert, but I can get lost in my head and still feel safe.
Most of my exercise since Sept. 1 has been on a stationary bike. Some of you readers (cough, cough, @egggman) who know my frustrations with my latest injury, a tibial stress reaction, have nudged me to get outside and on a pair of wheels.
Another confession: I think I prefer using the stationary bike to riding outdoors.
Okay, pick your jaw up.
I sweat at the gym. I don't sweat much on the bike when I ride outdoors. I don't have to worry about getting hit by a car or running over a pedestrian. I can listen to music and let my mind wander.
I turn to you, dear reader, to help me love the bike. I have a year-old Trek hybrid bike that I've been on four times. Help me break it in.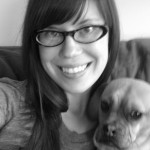 Brady is a chronically injured runner who's addicted to the sport. She believes in using her passion to achieve good. In April, she'll run the Big Sur International Marathon for the Multiple Myeloma Research Foundation in memory of her dad and in honor of her colleague. When she's not running – or biking because she's hurt – she covers crime for the St. Paul Pioneer Press. You can follow her on Twitter and at bradygervais.com.