The logo you see above should do one of two things to you when you see it. It will either fill you with intrigue and excitement about what you have been missing out on and are about to experience, in which case I envy you dear reader… or it will fill you with a deep feeling of dread and mental pain, in which case we stand brothers in arms (well… legs, but you know what I mean).
The horribly evil officials in the Sufferlandrian Office for Pain and Suffering have recently released a new manifesto and it is indeed 'A Very Dark Place'. Gone are the days when The Sufferfest videos were released with a world-wide health warning, these things are down right evil now and if you go into them thinking they are going to be any different then you are going to get chewed up and spat out of the back of a Lemond turbo trainer. A recent census was sent out to all residents of Sufferlandria and some of the questions and answers can be found below from LovingTheBike.com's very own Darryl & Stevie.
Sufferlandiran Minister for Pain – The latest Sufferfest video is called "A Very Dark Place"……do you feel its the deepest and darkest out of the 7 videos they have available?  How come?
Darryl – I've only personally seen two other Sufferfest videos (Revolver and Fight Club) and both of those really did a great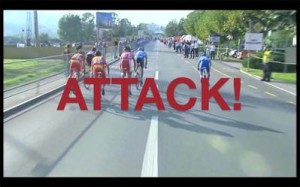 job at introducing me to how life is in Sufferlandia.  I have to be honest about something, it's November here in Austin and the weather is still far too beautiful for me to get on the trainer for an indoor ride.  But I did want to check out A Very Dark Place and provide my feedback in addition to what Stevie had to say.  So my answers will be based from an observer perspective on this one and not a true sufferer.  I do plan on riding through the video sometime in the months ahead though.  So to answer the question, this video does look to be the darkest one yet but the true test will come when I experience the suffering first hand.
Stevie – It's definitely the darkest Sufferfest video I can remember… but that might be due to falling off the bike and blacking out each time I do them and losing a few more brain cells each time. It's July 2009 right? Damn I love that Contador guy he's so strong! But seriously, I'm astounded how these videos seem to warp time! Has the Sufferlandrian Minister for Clocks decided to use a different method of timing because those 4 minute sprints seemed considerably longer! The superb footage used in this video (and in the others to be honest) was the only thing that kept me going!
SMfP – Do you prefer the short bursts of maximum effort (4:00 intervals) found in AVDP, or would you rather have longer sprints with less intensity?
Stevie – Prefer!? PREFER!? I prefer to sit in a country pub garden on a summer's evening drinking a nice pint of English Ale. I prefer to smell the cooling scent of a coniferous f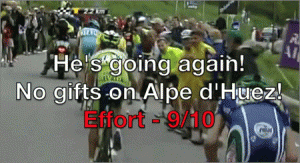 orest. I prefer to smash myself over the head with a track pump whilst sticking tyre levers in my… well… sorry. When I stick a Sufferfest video in my VHS player I try to concentrate on that video alone and think of nothing else. It sometimes takes longer to choose which training video to do than to actually complete it. There really is a video for every situation. So to answer the question, I'll do whatever I'm told to do by the scary man who types the stuff on my television screen.
Darryl – I'm with Stevie on this one….hahahahaha.  Nah, I do love the feeling of accomplishment that comes with pushing myself to the max and taking on new challenges.  In all areas of life I prefer to give things 100% and get it done as quickly as possible so I'd much rather go full-out for 4 minutes than to do a long climb or sprint.  Most of the time, anyway.  However, 4 minutes at the intensity demanded in the Sufferfest can definitely feel like never-ending eternity.
SMfP – What was your favorite part of AVDP?  Is it possible to have a favorite part of The Sufferfest?
Stevie – Favourite? I refer you to my previous answer! Although the best features of any Sufferfest video are the brilliant race clips and the rousing music that really keep you going. I do love seeing some classic race footage from previous years… they bring back the memories and the tears… oh the tears. The tears and the pain! Thank you Sufferfest!
Darryl – Yes, favorite might be the wrong word to use…..when it comes to the suffering part.  In terms of production I loved the incredible soundtrack.  David 'The Dark Artist' from the Sufferlandria seems to always be able to find great music that's somewhat obscure.  I consider myself pretty knowledgeable when it comes to music, but the Sufferfest tracks always seem to be foreign to me….but totally motivating and great to listen to.  Along with that, it's always nice to get the feeling that you're riding along with the pros like you do when watching any of the videos.
SMfP – What can the Sufferfest do to make the videos better? And by better we mean horrendously and disgustingly worse.
Stevie  – One of my main concerns with 'A Very Dark Place' is the name. I was hoping for something like 'The Darkest Place' which might indicate a peak and the Sufferfest moving towards a slightly more light-hearted approach to cycling. Videos for the tandem cyclist possibly or maybe even just some footage of Care Bears on bikes. But no, it seems the Sufferlandrian High Commission are intent on flogging us like stock-chained whores in a medieval village throughout the whole of winter. Other than making the videos themselves longer, I think a full Cross version could be a disgustingly hard prospect.
Darryl – What I would like to see (if it's possible) is for the Sufferfest to re-create a famous ride such as climbing the Col du Tourmalet or Hautacam in the Pyranees of France. That would be cool… but painful. Now that they have seven videos under their belts, I'd like to see the dungeons of Sufferlandria create something totally different. Although I've only seen three of the videos, they all seem to be fairly similar.
SMfP – If the professional riders featured in the video were asked, nay TOLD to complete 'A Very Dark Place' how do you think they would do against the seasoned Sufferlandrian?
Darryl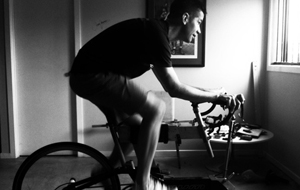 – 
Nice question…who's coming up with these?  I feel like I'm in
#bikeschool
right now.  I think the crazies out there (aka Sufferlandrian's) who give these videos all they've got and have done them over and over again would do quite well against a pro rider.  First you'll have to find a pro rider willing to take on the challenge, but if they give it all they can my money would be on the pro.  Hey David, have you had anyone take on this challenge before?  It would make for a great story….and video.
Stevie – It obviously takes a certain type of brain to choose to get on a bike in front of Sufferfest video and as much as the Pro's must all be a bit mental to do what they do day after day, I don't think they'd enjoy the videos. For Pro's riding is a job and as much as they must enjoy the riding I reckon they'd much sooner do the track-pump-head-smasher thing than sweat in front of 'A Very Dark Place' or something similarly horrible . So that basically means we, as Sufferlandrians, are harder and more dedicated than Pro cyclists!
If you have not experienced the Sufferfest yet or you would just like to add some extra pain and suffering into your life, head over to The Sufferfest and check out the whole range of videos. There is everything you could want and more… except nice, fluffy things. The videos are really cheap ($11.99) and can be added to your iPod, smart phone or just used on your laptop for widescreen pain.  Here at LovingTheBike.com We fully endorse and support The Sufferfest and think the work the 'Dark Artist' puts in is phenomenal.  Show your love and pain people!