Adapting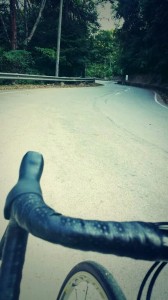 Cycling, and life in general, is all about adapting. We adapt to new jobs, relationships, cities and other circumstances, and that pain you feel after a ride is your body adapting to the workload. All of this has been made more clear since moving to Malaysia. I'll just talk about the cycling bit, though.
The four main areas in which I've had to adapt my cycling are the weather, food, roads and people.
Weather:
Sometimes, like recent, it's hot here. Going out for a ride means you'd better leave early or you'll be toasted in a couple of hours. I try to be out the door by seven, which means sometimes waking at five. And then, often, it rains. I've talked a bit about the rain already, but the weather here during the rainy season is predictably unpredictable, so always bring a cap. I love caps. The other piece of the weather that's always a blast to ride in is the wind. Most of the time I ride solo, so there's nothing like climbing a rise only to be hit with a headwind on the descent and get nowhere.
Ok this has been a bit of complaining, but these are all part of living here. 90% of the time the weather is perfect for riding, and I try to rub it in to folks back home as much as possible.
Food:
Back home a long training ride meant scheduling in some coffee stops, bringing along enough calories to sustain me and making sure I'll have enough water. Gas stations are great places to grab some water and a Snickers, and it's no different here.
What is different is I eat a lot less while I ride (due to the heat) and it's often roti canai or Thai food rather than Honey Stinger waffles and Bloks. Nowadays I found that after eating a lot more real food, I can't handle the more processed stuff.
Roads:
Well first of all, we ride on the other side of the road. This was a little strange for me at first but now it's second nature. I still clip out my right foot to put down, though everyone else here does their left.
While there's more traffic here than back home, it's more manageable. Cars give you more room, and often on twisty descents just stay back, which I think is due to the amount of motorbikes everywhere here. Also, you can ride like a motorbike here, which means one ways and red lights are optional-ish.
The terrain is a different than back home since there are actual climbs that don't take an hour to drive to, and the switchbacks are just as fun climbing as descending. I've been putting in a lot of miles, and a lot of climbing recently, which can only help for my hilly races back home.
People:
I've been extremely lucky in that I happened across (or rather, they found me) a great group of cyclists and now friends I ride with regularly. They've not only shown me the roads of Penang and surrounding area, but the ropes of living here as well. Right now I'm writing this in my 'office,' or my friend's shop.
Also, I'm more likely to get a wave or thumbs up when traffic rolls by, instead of the Massachusetts one-finger salute back home. This small thing really makes riding more enjoyable.
As you can see, there's been a lot of adapting in my cycling life here, not only in that I'm faster and stronger than ever, but also in some of the basics of riding. Has anyone else made a big move or change to affect their cycling, for better or worse?