Aftershokz Are Rocking My Ride
As you already know, I like to ride to the soundtrack of my music playing each time I'm out cycling.  This is quite the controversial subject and I'm not here to stir things up again.  What I do want to share is information on a fantastic product for any of you who do or are interested in riding with music.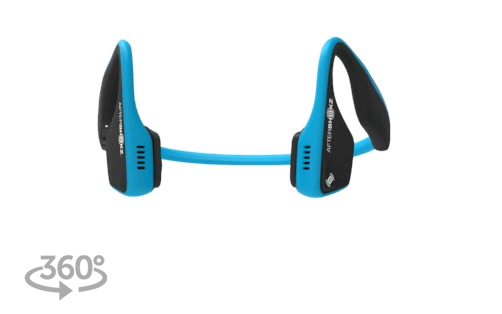 They are called Aftershokz, and I absolutely love them.  Oh, and even though they gave me a pair to try out there was no obligation for me to write about them or promote the product.  They actually gave me a sample through my involvement in the Cycling 360 Podcast, but because I dig them so much I wanted to share the news with all of you.
Okay, so Aftershokz are super unique and cool because they use something called bone conduction technology.  Here's how they work in their words: "Transducers guide mini vibrations through the cheekbones to the inner ears, delivering sound without plugging or covering the ears".
Okay, so now let me explain things in my own words.  Because the earbuds sit in front of your ear canal, your ears are open to the environment and you can totally hear what's going on around you.  But the beauty is that you still get full quality sound and crisp clear music to listen to.
To be honest, I don't really get how it works….but it does.  You really do need to try these babies out for yourself to get the real feel of how they work and why I think they are the ultimate earphone for cycling with music.
Aftershokz have a few different product options.  I have the Trekz Titanium wireless headphones.  On top of delivering amazing sound quality, they are sweatproof, secure, and like I said…..they magically allow you to hear your surroundings.

Buy Them Right Here
Okay, so if you trust my opinion and want a pair of Aftershokz for yourself you would greatly help out our Cycling 360 Podcast if you purchase them through our affiliate link found at http://cycling360media.com/aftershokz.  It helps us, and we help you by getting you 15% off your order.  Just use the code: CYCLING360 at checkout to receive the discount.