Amazing Cycling Families

It is no surprise that I'm a huge fan of the Vogel family from www.familyonbikes.org….the amazing family in the process of cycling from Alaska to the furthest tip of Argentina. They've been at it for about two years and currently located just outside of Lima, Peru.
But these guys are just one of the incredible families that I have come across over the past year.  I actually found out about the Vogel's amazing story through another traveling family called Soultravelers3.
I don't even know where to start with these guys, because their story is so fascinating.  Mom, Dad, and their young Daughter packed up life in California and have been traveling "nomads" since 2006.
Four continents, 32 countries, 175,000 miles ( most overland) thus far, but this will be the first year we totally circumvent the globe. We plan to continue with our family travel budget of just 23 dollars a day per person or less!
Now, Soultravelers3 are not solely traveling by bike, but it has been a big part of their nomadic lifestyle.  Ironically a bike crash (Soultraveler3 Mom -Jeanne Dee – broke her arm biking the Danube in Austria) has kept them off their bikes as of late, but they hope to be riding again soon.
Below is a description of their cycling experience in Bordeaux, France through the eyes of Jeanne Dee:
"A stunning area of France, filled with surprises, we thoroughly enjoyed our time in Bordeaux, the wine capital of the world! Absolutely perfect for family travel, with something for everyone! We were based in St. Emilion, a UNESCO World Heritage Site, with it's charming, medieval old town, vineyards all around and underground galleries plus catacombs.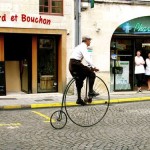 We met a lovely family from Scotland on holiday there and Mozart had great fun with her new friend and catching baby ducks! It is a perfect place to do lots of bike rides amongst the vineyards, relax, swim, do wine tasting and enjoy great food in a beautiful environment.
One of the surprises were these old fashion bikes that went by while we were touring in the old town one day! I was happy to catch this shot just as the big one went by.
To learn more about this incredible family, please go to www.soultravelers3.com or the recent blog post by Danny Brown at his site www.dannybrown.me.
The Metal Cowboy
Another very cool cycling family is the Kurmaskie's.  It is very difficult not to fall in love with the personality of Joe (the metal cowboy) Kurmaskie…it's also hard not to see his passion for the bike. He has been on countless adventures with his bicycle and many have included his entire family.  This video can do a much better job of introducing you to this cycling family than I can…please check it out:
And Back to the Vogels
Nancy Sathre-Vogel just flew back from Peru to NYC this week to pick up some necessary supplies and get a well needed dose of North American culture before heading back for the last leg of their incredible journey.  She arrived in New York yesterday and already she's been featured on NBC News….have a look.
I know that these are just three of the numerous incredible cycling families out there….going to show just what two wheels on a frame can help achieve. Congratulations and Good Luck to the Vogel's, Soultravelers3, and the Kurmaskie's.
Let them know how proud or inspired you are of them.