Après Vélo: My Highest Quality Cycling Shirts
Okay, so I just might have like enough cycling t-shirts where I can wear a different one for each day of the month.  I love them all equally, and am always proud to be promoting the cycling lifestyle through my clothing.  But I was recently sent some gear from Après Vélo, and they are easily the highest quality shirts of my bunch.
For the most part, I generally pick cool over quality…..but I sure do appreciate it when I get it.  These guys don't take quality for granted either (that 100 day guarantee is not a typo).  In fact they have a pretty insane Quality Guarantee:
Après Vélo Quality Guarantee
Test Ride any of Après Vélo's products to destruction, and if you are not completely satisfied within 100 days of receipt due to a manufacturing flaw occurring with this product, you can return it. Upon receipt, Après Vélo will assess whether or not the product has suffered a manufacturing flaw and will either exchange, repair or refund the product as required. It's that simple. Please note that items that are damaged as a result of excessive or long term usage or abuse are not considered to be faulty.
My goodie pack from Après Vélo included the following:
Fixation 'Code of Honour'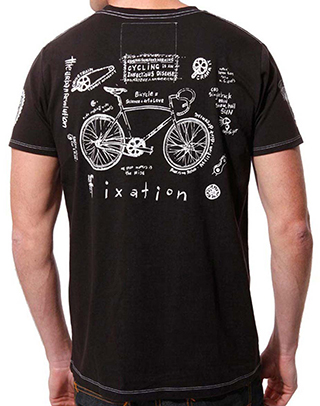 I'm not a fixie rider, but I love repping all aspects of our sport.  Plus, I loved the look of this one.  The shirt is ultra high quality, feels amazing, and looks rockstar.
Best of all, you'll instantly gain the respect of your fixie neighbors when they see you wearing this one around town.
Retails for $34.95
Crank It Damn It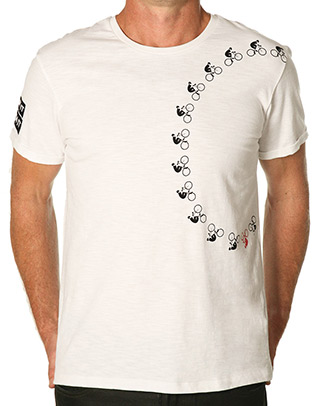 I'm not really sure why they labeled this shirt what they did, but I dig it none-the-less.  It's catch, unique, and stylish….and not to sound like a broken record, it's super good quality.
In the few times I've worn this one, I've already had several comments both in real life and online.  I'm not a fashionista, but I'd have to say that this T is much more stylish than many of the cycling shirts out there.
Retails for $34.95
SUF Long Sleeve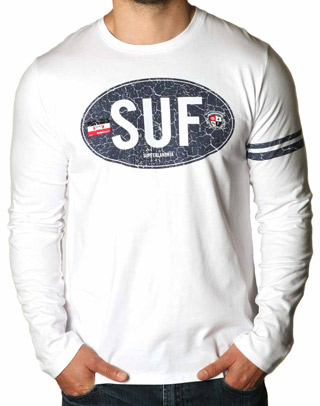 Okay, so David from Sufferfest has become an even bigger deal than I thought.  Not only have his cycling videos exploded everywhere, now he's getting added exposure and credit from companies like Après Vélo as well.
Yeah, I had to get this one….both because I wanted a long sleeve, and also because I wanted to show my respect for what The Sufferefest has done in the cycling scene.  Apres actually has a few Sufferfest inspired options for you to choose from.
Definitely the best quality long sleeve I've ever owned, and it's simply styling makes this one easy to wear with anything.
Retails for $39.95
Cycle Club Hoodie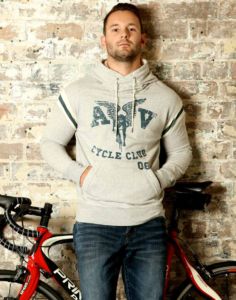 Now that I'm living in the cooler climate found on Canada's west coast, hoodies are part of my wardrobe.  That was one of the reasons I wanted to check this one out, but it was also because I wanted to see what Après Vélo had to offer outside of their amazing t-shirt line-up.
Yep, amazing quality and feels good.  I keep this one in my vehicle so that whenever I'm caught in some cool down weather, I'm able to warm up and look cool.
This one is my safety blanket.
Retails for $49.95
Velo Spirit (Female)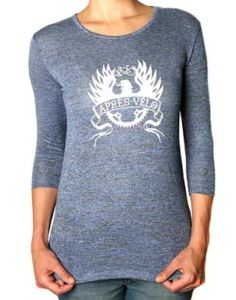 I couldn't leave Mrs. Lovingthebike out of the fun….and she definitely appreciates quality more than I do, so I knew she was going to love what these guys had to offer.
The Velo Spirit is definitely a woman's type shirt, but so much more unique and stylish than many of the women's cut options out there.
They have several options in their woman's line, but for some reason this one spoke to me more than the others.
Retails for $39.95
Okay, so I've been raving about the quality of the clothing at Après Vélo….but what's equally as awesome is their "insane dream" for a wheel revolution:
To build a new nation from scratch, where we could all:
Live a Life Spent Behind Bars
Follow our Life Long Passion
Live to Ride and Ride to Live
Consume our Drug of Choice at will
Carbo Load every 4 hours
Wear our heart on our Tee's
Entwine ourselves in True Love
Worship the cult of the Crank
And on the 7th day go spinning