Augment Your Ride With New Everysight Technology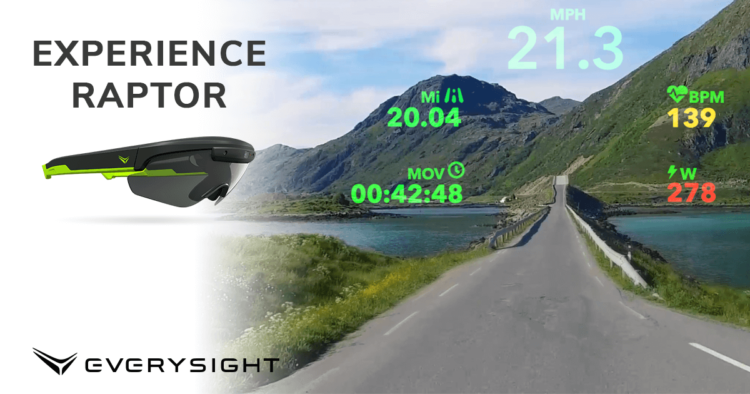 Today, cycling officially enters the world of augmented reality.  Some say the future will be full of virtual reality and augmented reality, and the guys from Everysight are banking on this with the release of their new Raptor super glasses.
So what is augmented reality, and what can it do for your cycling?  Good question.  Basically, augmented is when the real world and digital world blend together in one visual experience.  The Raptor technology allows you to see your real time cadence information projected out in front of you while your eyes are on the road.
But that's not all these sunglasses can do.  There is also a front facing camera that allows you to capture what you see on your ride, as well as record your metrics and performance at any point.
But wait, there's more.  The Raptor is equipped with a powerful CPU, available storage, GPS, Bluetooth, Internet Connectivity, Orientation Sensors, Barometer, Proximity Sensor, Microphone, Speakers, and two Batteries that last up to eight continuous hours.
Let's dive into a few of these features a little deeper.
I generally like to explore new routes when out cycling, and the Raptor helps make that so simple.  This device allows you to explore new routes by showing your map floating in front of your eyes.  No more missing turns or having to slow down to take a closer look at your phone or GPS device.  A simple swipe on the touchpad located on the arm of the glasses and you can change map modes and elevation profile.  Pretty cool.
Taking pictures couldn't be any easier.  If you like what you're seeing through your glasses, just tap or use a voice command and that image is saved in HD quality.
If you like riding with music like I do, the Raptor allows you to eliminate one device and have it all included in one. You can store music directly on the glasses so you don't necessarily need your phone with you.  The sounds comes out through built in speakers and not through earphones so your ears are clear to hear your surroundings.
I've had these glasses for about a week and have tried to show them to as many local cyclists as I can to see what they think.  Of course they all think it's pretty cool, but here's a few concerns they came up with.  The only real issue I heard from anyone was that the glasses didn't fit very well with their helmet.  Keep this in mind, and know that you might need a different helmet if they don't match well with your current one.  I was also asked if the swipe pad would work with gloves.  I don't ride with any, but after checking the website they claim to have technology that allows this function even when wearing gloves.  Otherwise, the only real feedback was cyclists saying that they get all the information they need from their current cycling computer, watch, or phone.
Like most new technology, the Raptor is not cheap.  The price ranges from US$649 to $939 depending on which model and features you select.  Before thinking any further, you might want to try out this virtual demonstration on their website that gives you an idea of how things look while riding with the Raptor.
So if you like the idea of having all your devices combined into one, are excited about new technology, and have some extra money burning a hole in your cycling shorts…..these are definitely the glasses for you.  Available as of today August 1, 2018 on the Everysight website.