Back in the Saddle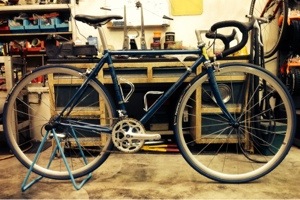 I've been absent on here, and for that I'm sorry. I've been in a bit of a funk in all sorts of ways for various reasons.
Since the last time I posted, I brought home a stray puppy from one of my mountain bike rides and integrated her into life, which now includes shopping for a new couch. I almost went back to one dog…
Also, I've gotten my steel bike back from the painter, had the shop here build it up and been riding the bejebus out of it, like this weekend's 130km ride.
Every year around this time I lose my riding mojo. While I was sick on and off a few times, I didn't even feel like looking at a bike. I stopped riding with friends and when I did go out didn't ride very far.
Last years funk happened at the same time I was racing a lot, and planning a wedding, and contemplating a move overseas, so it was less noticeable. The year before I got super busy at work, and the year before that my husband broke his leg so I kind of had to stop riding anyway.
Whenever this happens I like to step back and then dive into a new project, like the steel bike. While it's built, it needs some little tweaks, which is part of the whole fun of building a bike: personalizing it.
What also helps is having some sort of goal or thing to look forward to. This summer we're going to Paris, so I'm brushing up on my French, and I'm doing a local three day, 500km ride that I need to train for.
I know I'm not the only one who gets into a springtime funk, and it helps to hear from others with the same issue. If you deal with it, too, how do you recover?
– Ashley