Belize Debriefed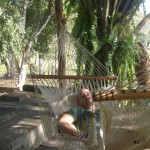 I would have to say that my trip to Belize was extremely productive. The seven days that I spent in the country were jam packed full of travel, meetings, sites, and people. We crammed so much into that one week that it honestly felt like we had been there for a month. We were able to squeeze in a little relaxing along the way, but the purpose of the trip was to do everything possible to see if it would be the place that my Family and the place that I will call Home.
I narrowed down my search to a good selection of properties and land that we'd like to purchase…secured a position with a great company….and acquired a whole mess of great new friends. All in all, I would say that the mission to Belize was a success. There is still a lot of sorting out to do, but I wanted to share some of my findings with you as I debrief my trip.
One of my favorite things about Belize is the fact that cycling is a huge part of the culture. Within the cities, bikes are the predominant mode of transportation, and in a place like Belmopan, the city totally set up to accommodate cyclists. On the highways, there is a steady stream of road cyclists out training and riding….a beautiful site to see. I would have loved to have my road bike or mountain bike there with me, but we were able to get out for a great tour of Belmopan on the bike.
As I said…we met so many great people while in Belize. One person that comes to mind is Jim Gulden, a retired professor from the United States who has so much wisdom to share about life, love, and of course….cycling. Thanks to Jim for standing out in the rain to share his pride and joy with me.
We have yet to make an official final opinion….as you can likely appreciate, there are some huge factors involved with this decision. One of course is the struggle of knowing what is best for our Family.
"Security is mostly a superstition. It does not exist in nature, nor do the children of men as a whole experience it. Avoiding danger is no safer in the long run than outright exposure. Life is either a daring adventure, or nothing."
There will be more to come in my Belize adventures, and my Family's Quest for the Sun, so please keep tuning in.
Have any of you ever been to Belize or know anyone who lives there? What are your thoughts of the country?