Best Job Ever
I've had some pretty cool jobs in my time, but nothing can compare to the position of Mountain Bike Tour Guide that I once held….oh, and I should also mention that this job was located on the Caribbean island of St. Kitts.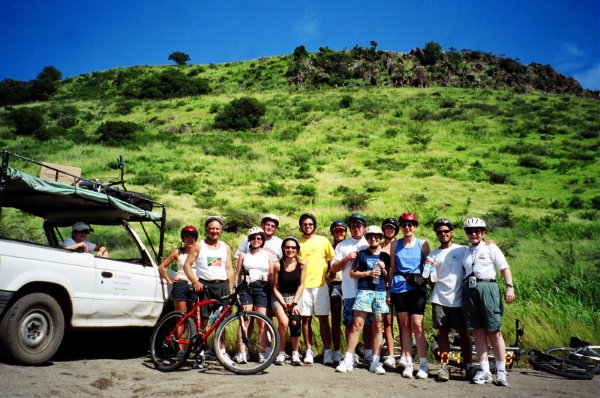 Okay, so having a job that puts you on the seat of a bike has got to be enough to make it the best one ever all on it's own, but there was so much more to it as well.  The bike tours were catered to the cruise ship passengers who had just arrived on the island and had chosen a bike tour as their option for the day.  We'd get everything from hardcore cyclists to others who looked like they'd never been on a bike a day in their lives.  But no matter who they were, we would have a fantastic time with them.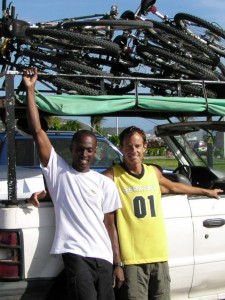 One of the things that made the tours so great was that I did them along with one of my best friends in the world…..Royston.  He's been my good friend since I first went to St. Kitts and was even the best man at my wedding, and hanging out at work with my best buddy made things extra special.
I also liked the instant gratification that came with doing the bike tours.  Seeing the smiles on peoples faces and befriending everyone while riding through cane fields and trails was one of the best perks that came with the job.  Of course, having them hand you a nice fat tip before heading back to the ship was a pretty great instant gratification as well.
Working in your element along with your best friend also brings out about as much fun that can possibly be had. Each tour was a bucket full of good times.  Along the tour we would make several stops and give people historical facts about the island, but Royston and I always had a way of making the facts really fun and goofy.  You see, each tour one of us would cycle in front and lead the group while the other would drive the support vehicle behind….and then we'd switch off for the next one.  Well, on the tours that I biked and Royston drove we'd make people laugh with our Plantation House history lesson. We'd tell them about life on the plantation, the slaves, and the eventual abolishment of slavery. Then I'd go on to say that the locals are making up for it now by making the white dude sweat it out here on the bike while my partner relaxes in his truck (see the photo on the right to help you get the joke).
So what was your best job ever?  Did it have anything to do with cycling?  Let us hear all about it.