Best of Interbike 2012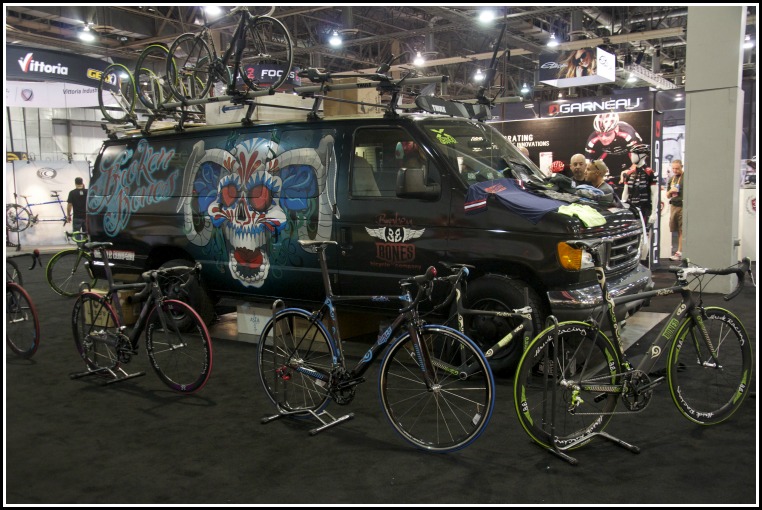 It's not easy to single out one exhibitor amongst all the bikey goodness here at Interbike 2012, but I'm about to put it out there and make my selection for what I feel was the best thing found at this year's expo.
In a world of tradition, precision, and European influences…it is so cool to see Broken Bones bikes throw the cycling world a punch in the stomach with their rockstar attitude and funky design.  So I'm selecting this company as my pick for the Best of Interbike 2012, because they are brining some serious attitude to our beloved passion.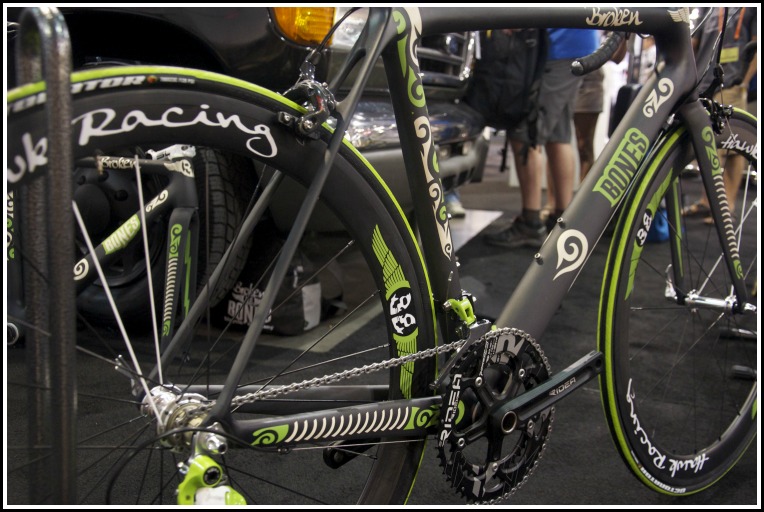 Broken Bones is a brand new bike company and are launching themselves here at Interbike.  I am pretty sure that any of our hardcore traditional roadies who follow us are going to scoff at what they are doing and my opinion of them, but seeing as I'm a very non-traditional guy….I totally dig what they're doing.  They are bringing something new and fresh to the road cycling world in a way that's so different from the way other companies are bringing freshness.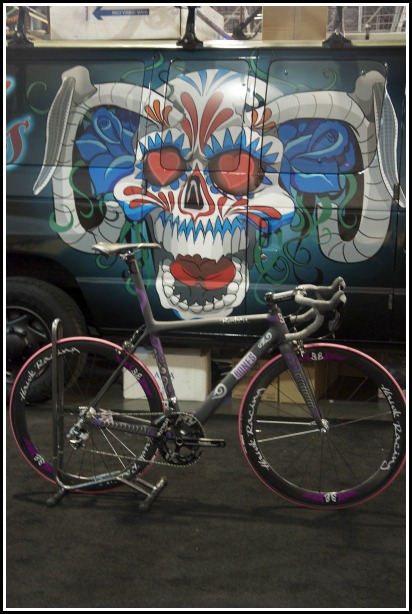 They aren't the best quality bike on the market, but I dig their attitude and appreciate the uniqueness they are bringing with them.  I could go on and tell you more about what goes into these bad boys of the road bike world, but if they catch your attention as much as they did for me…head over to their website for more details:
I talked to Broken Bones' owner, Josh and in this video he talks about why and how he started Broken Bones bikes:
[youtuber youtube='http://www.youtube.com/watch?v=gBoQSCNmdb0′]
Oh, and they had a great way of promoting themselves at Interbike as well.  Have a look at the creepy cool face painting they were doing: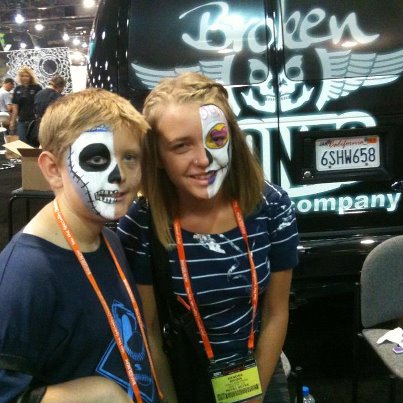 Interbike Wrap Up
Thanks Interbike, it's been a blast.  It's been so great seeing bike people all over the Las Vegas strip and promoting bikes in a crazy environment like that of sin city.  I've really seen it all and am really excited about the future of cycling.  But it was my time with Sean Mellor from Bicycle Radio and the talk we had that summed it all up perfectly.  "At the end of the day, it's really about getting more people on bikes."  That's what the guys from Bicycle Radio care about. That's what we here at Loving the Bike care about. And that's the attitude that will keep the world of cycling thriving into the future.
Ride Your Bike.