Betty Designs: Kits For More Than Just Pretty Girls and Triathletes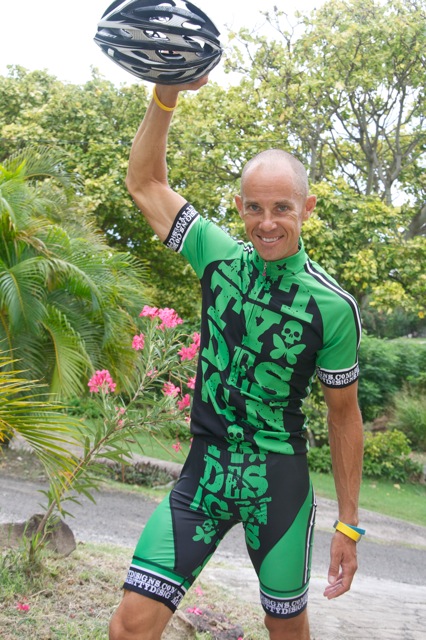 Talk about being impressed by the service of a company…what Betty Designs went through to get me one of their kits is downright incredible.
Before getting into the story of how this complementary Graffiti bib short and jersey came to me, let's talk a little about what this kick butt sports clothing company is all about.
Betty Designs is the result of Kristin Mayer putting together her two main passions: Triathlon and Fashion Design.  It all began back at the 2010 Hawaii Ironman when Kristin brought along a box of triathlon clothes she had created using her signature flair and boldness.  The success in this unveiling resulted in Kristin developing an online store in 2011.
So if her name is Kristin, where the heck did the name Betty Designs come from?  Well, it's slang for "pretty girl"….but the company offers a whole lot more than just clothing for female athletes.  Oh, and they offer great stuff that's not just for the triathlon crowd as well.
I'll let you do your own looking around at their triathlon clothing, swimwear, and casual clothes….but let me give you my feedback on what I'm into most: Cycling Apparel.
Betty Designs offers quite a few different (and very unique) jersey and bib designs for men and women with each of them having a cool zing and explosive flavour.  They also make custom cycling apparel as well.  I was sent the men's Graffiti kit which retails at $119.99 each for the jersey and bibs.  Okay, kinda steep….but when you're buying an original design from an athletic fashionista,  that's just the way it goes I guess.
If you've gotten past the price and are still interested, I can tell you that the quality of these kits is top notch.  I'm far from being a fashion designer, but my Wife knows good style and told me it's one hot looking kit.  So if you're single and wanting to attract the opposite sex while out cycling, you might just want to drop the cash and invest in your personal marketing.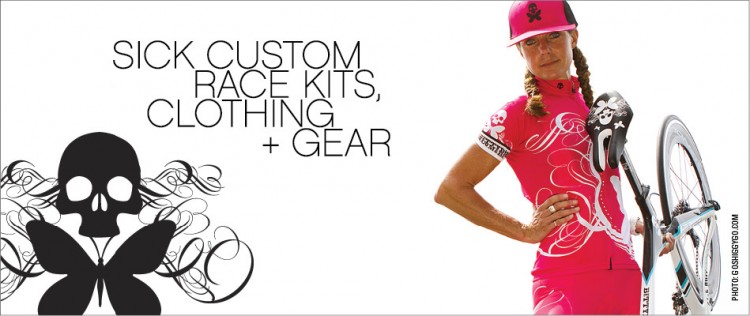 I had the chance to ask Kristin Mayer a few questions about Betty Designs, and here's what this hardcore sports clothing designer had to say:
Loving the Bike – How do you feel when wearing this kit?
Kristin Mayer – I love that it's flashy. It makes me feel good to ride in something that I like. I think if I feel fast, I'll go fast.
LTB – How important is style and image to you…on and off the bike?
KM – I love fashion. If I could, I would shop all the time. It's no different when I train and race. I want to look good.
LTB – What was your inspiration behind this design?
KM – I wanted to create something that was different from what is out there in the market. Something colorful, bold, unique. That makes a statement when you see it. I also like designs that are a bit edgy, hence the distressed typography and unpredictable way the letters flow down the center of both the jersey and short. Think it's fun(ny) to put graphic on the crotch of cycling gear.
So now I'm here cycling around Grenada with my pimped out crotch and looking very stylish, but let me now get back to the story of why I'm so impressed by Kristin, Morgan, and Betty Designs.
When I was first contacted by Morgan from SMACK! Media (they look after promotions for the company), I told her I needed the kit sent out quick because I was on my way to the Caribbean.  As a bonus for them providing me with a full kit, I was going to wear it during my cycling shot in the House Hunters International filming that went on here in Grenada (yeah, I still need to write about the whole HHI experience don't I?).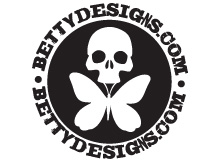 We left Austin on November 2 and the kit had yet to arrive.  I think it showed up a couple days later and was eventually sent back to Betty Designs.  Talks continued with Morgan and I said they were still welcome to send the kit to me here, but the shipping cost would likely be a bunch more than they originally planned on investing.
We sort of left things there and I was totally shocked when I received notice in my PO Box that it had arrived.  I had to pay a couple bucks for duty, but was totally cool with that considering the headaches and cost Betty Designs had sunk into getting it to me.  I'm a sucker for good customer service, and what these guys went through (with a free kit) was super impressive.
I invite you all to check out Betty Designs and the great stuff they have to offer…..oh, and feel free to send care packages to me here in Grenada as well.