Bike Freedom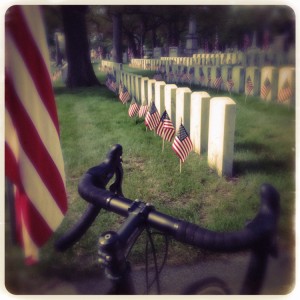 Everything about a bike says freedom.
As a kid, riding a bike was the first time I spread my wings and left the front of my house, ventured off my block, and explored my neighborhood. Those joyful feelings I experienced back then are still with me decades later every time I ride.
Last Thursday I tweeted this:
Looks to be a gorgeous 3-day weekend. I will be on my bike often and will try to remember why I'm able to do so #memorialday #bikeCHI

— suzanne deveney (@soozed) May 23, 2014
What actually happened came pretty close to being the most perfect five days of back-to-back riding I've had in a long time. Chicago weather was (finally) cooperating, the company was great, and the coffee and conversation were flowing.
As I've done for several years, I started Monday's ride with a walk-my-bike through Rosehill Cemetery on Chicago's north side. There's something particularly moving about seeing all those tiny flags lined up along grave markers that date back to the civil war.
I stood there as people started to gather for the service. Men dressed in civil war uniforms were arriving. Spectators took seats along the edge of the road. I watched veterans walk quietly among the headstones, and I imagined them remembering their own time spent far from loved ones. I felt my eyes fill with tears.
This isn't about whether or not I believe in war. It's about honoring those that gave their lives so that I could go out there and ride wherever and whenever I want. And while I know that's a gross understatement of the sacrifice of war, it represents a part of my life that if taken away, would crush me.
There are still countries where women can't ride a bike. Countries where the outfit I wear while riding is frowned upon – or worse. Countries where women can't speak up, people are denied basic rights, or their girls no longer feel safe while in school.
But we're not without faults. There's still hatred, racism, and misogyny in this country. You have only to look at social media to see that there are people who believe our precious freedom gives them the right to practice intolerance and spew ugliness into the world.
And in the biggest irony of all, it does.
So on Monday, I spent a quiet moment at Rosehill, thinking about the past several days and looking forward to meeting friends later that morning.
I spent that moment in sadness, understanding that some freedoms come with a painful price.
I turned and walked my bike back through the massive front gate before the parade began.