Bike On Earth Day
April 22 has been a day that I've made a point of recognizing for at least the past 18 years or so. Also known as Earth Day, I've made it a day that I do my best to honor the earth.  With this year being the first Earth Day with Loving the Bike, I wanted to do something to incorporate that into the mix as well.  The result was "Bike On Earth Day".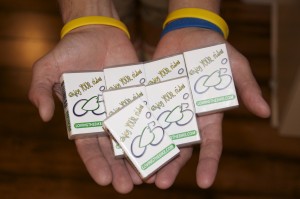 With the help of our teammate, Myron, Loving the Bike encouraged the students and staff at Walter Murray Collegiate to ditch their cars and take their bikes to school for Earth Day.  As a little bonus for those who opted for the bike, we gave them one of our Loving the Bike Patch Kits.  The staff and kids really seemed happy with our token of appreciation…..thanks to the great folks over at Escapade for supplying us with the kits.  Through this event, Loving the Bike helped keep about 200 cars off the road on Earth Day. For that we are extremely proud.  (Thanks to Myron for taking a few photos with his Nikon D5000.)
As part of the Earth Day celebration at Walter Murray, Colleen Thomas from Climate Project Canada was brought in to speak to the students.  She talked about the carbon footprint we produce as well as other environmental issues.  She encouraged the students and told them how to make a positive impact on our Earth, and was sure to mention how proud she was of the students who chose to ride their bikes instead of driving.
Myron's Experience
Now the Bike On Earth Day wasn't the only positive thing to come out of Earth Day 2010.  To honor the commitment, Myron also chose to ride his bike to school today and was thrilled with the result.  Here are Myron's comments from his Bike On Earth Day experience:
I realized that it only takes 10 minutes longer to bike instead of driving to work
When I passed other cyclists they smiled at me….Wow
I moved more quickly than the cars in the congested traffic
I'm out of shape and I need to bike a whole lot more
Darryl's Day
As for me, I once again went car-less on Earth Day and spent as much of the day out in nature as I could.  I took out the mountain bike today so that I could slow it down a little and appreciate every tree, flower, and blade of grass I passed.  Best of all, it was the day that my 4 year old Son became a two wheel cyclist…one incredibly proud moment for me and the start of his own Bike On Earth Day commitment.  I'll definitely be posting more about this experience very soon.
I really do love Earth Day.  How did you spend yours?