These Cyclists Got Balls
Myron, from Loving the Bike, tries out a new cycling adventure and shares his experience.
On Monday June 21st, I tried something new on a bike and I enjoyed it; polo on bikes!  (I would describe the sport as hockey/soccer played on a bike).  The Saskatoon Bike Polo group invited Loving The Bike to join them and have some fun.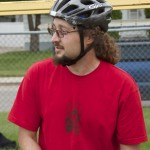 Kip Luce started Saskatoon Bike Polo in Saskatoon, Saskatchewan four years ago.  He got introduced to the sport while in Edmonton and decided to start organizing a weekly game in his home town.  On any given week, approximately half of the 15 members (aged 15-50ish) "drop in" at a grassy field to play a friendly game of bike polo.
All you need to play is a bike, a helmet, a wooden mallet, and a ball.  The goal is to get the ball across the opposing team's goal line by passing the ball to other teammates.  There are some simple rules to follow but the most important ones are:
your feet must remain on your pedals at all times
in the case of a "foot down", the player is not in play and must race to to the sideline in order to rejoin the game
players are allowed 4 consecutive ball touches with the 5th a pass or a shot on net
With the rules in mind, a mallet in hand, and practice under my wheels I thought I was ready to join the game.  I expected a fast-paced, back-and-forth flurry of action (similar to traditional horse polo matches).  What I experienced was a need for controlled speed and deliberate passes.  I thoroughly enjoyed my first game of bike polo (I didn't even realize that we played for over 2 hours) and I am sure that I will join the Saskatoon Bike Polo group many more times and maybe become a member.  Bike polo was a great "new biking adventure" and I can't wait to see what future adventures come my way…suggestions?