Bike Poncho
Does your bike spend a lot of time being stored outside or subject to potentially harmful conditions? Hopefully not, but if so then a Bike Poncho™ can help you (and your bike) out.  It's designed to protect your bike while parked on work/campus, traveling on the back of your bike rack, or while being stored outside at home (heaven forbid).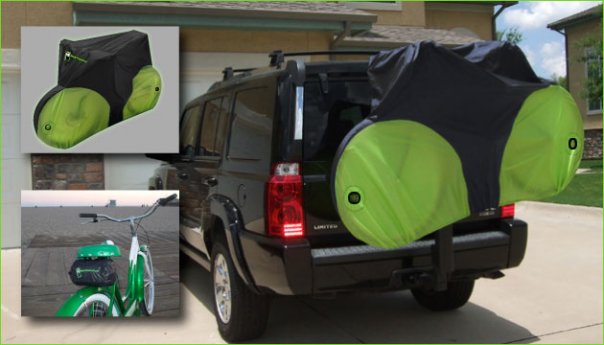 Lucky for me, my bikes are only outside when I'm out there riding them….but there was a time when the Bike Poncho was exactly what I was in need of.  It was back in October 2009 and I was living in Canada.  My Family and I were heading off to spend a couple months in Austin, and driving the 3,000kms in our Jeep Liberty to get there.  Of course, my road bike was coming along and it was happily sitting behind us on my hitch mounted bike rack.
Generally speaking, that time of year is totally free from the cold and snow….but not that year.  We took off on the journey and were faced with snow, slush, and ice all the way until somewhere around Nebraska. It was nasty enough to drive in, and you can only imagine how I felt about my bike being back there.  It was no longer so happy to be along for the ride.  I can still remember checking into the hotel for the night and having to thaw my bike out in the bathtub and clean off all the slush and dirt.  It still makes me cringe thinking about it.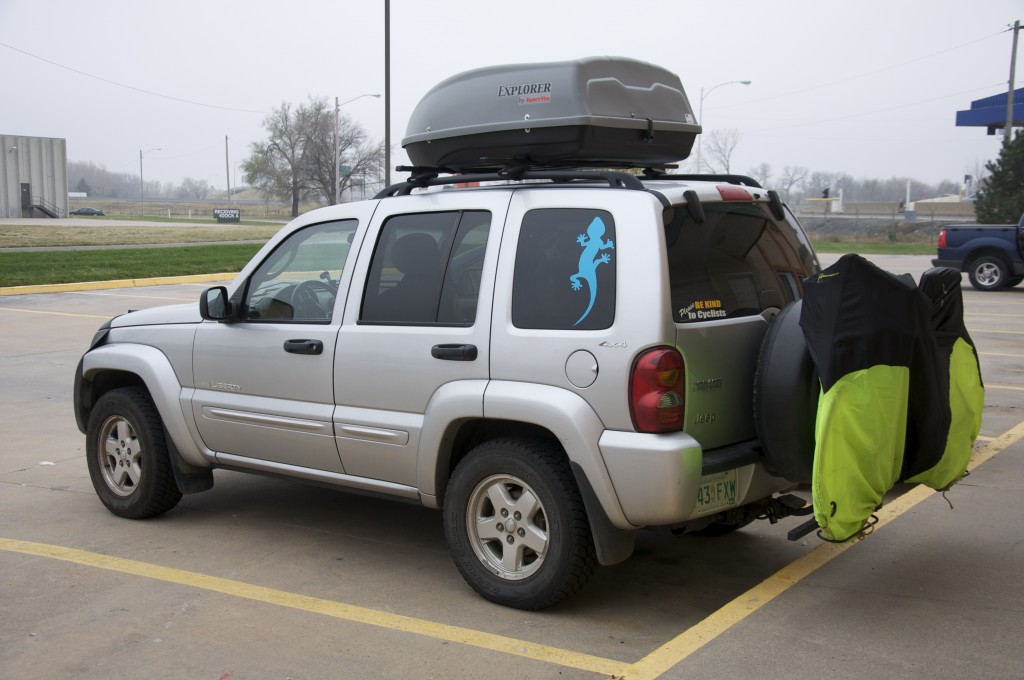 Anyway, while I was in Austin I met Mary from Bike Poncho who was displaying her product at the Livestrong Challenge Village.  I told her my horrid story of traveling with my bike and she gave me a poncho to use for our trip back home.  The weather home was far nicer and we didn't encounter the same nasty conditions, but if they would have come…I was totally prepared this time.
I've been friends with Mary ever since, and feel the Bike Poncho is a great protector for many bikes out there that are subject to the elements.  I'm sure there are also more than a few "clean freak" cyclists who could also use a poncho to help keep their bikes ultra clean and dust free.
I invite you to learn more about the Bike Poncho, where to buy one, and more at www.bikeponcho.com.
Win a Bike Poncho
Mary would like to give away a couple of Bike Poncho's to those of you who could really use one.  In the comments section below, let us know your story and why a Bike Poncho is needed to come to your bike's rescue.
We've selected two winners who will each receive a Bike Poncho…..Congratulations to Mpalileo and Mike Neifert.  But we're leaving this one open….keep your comments coming in as to why you need a Bike Poncho and we just might have more to give away in the future.