Bikes Are Crushing It Online
2010 has quickly become a great big year for bikes in the online world.  First, Yahoo sponsors a pro cycling team and then Google this week announces they have added biking directions to Google Maps…at least for U.S. searches.  On top of this, the use of social media by pro cyclists has continued to roll along.  It's clear to see that bicycles have become a powerhouse in the online world.
Yahoo Cycling Team
Although it seems a little bit strange, and just slightly goofy…there is no denying the fact that having Yahoo sponsor a cycling team is going to do good things for the internet/cycling connection.  With Yahoo taking notice of the incredible marketing potential found within the cycling world, they will further push that force into some new online mediums.  You just gotta know that Yahoo will be squeezing out every last drop of social media and internet marketing that it can out of this new relationship.  And I do believe that cycling will be a bigger winner here than Yahoo.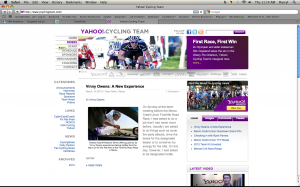 With the launch of www.yahoocycling.com, it has begun.  Check it out, but get ready for the big old "Yahoo" patented scream when you tune in.  In my opinion, that sort of just cheeses the whole thing up a little….but my 11 year old daughter thought it was cool.  If you can get past that introduction, you'll find some typical team information and what is just hopefully the start of their social media push.  Yahoo has claimed that social media will be used as a key marketing strategy behind the team….let's see if they use their strengths to their advantage.
Google Maps
Okay, I'm sure every single internet blogger has already talked about this already….probably a few of their dogs as well.  But when an online monster like Google gets involved with cycling, it just has to be written about.
News of the bike maps just broke on Wednesday, and already it has blown up on social media.  I'm very happy to see it, and sure do hope that it provides useful information and generates more cyclists.  From my limited exposure to it so far, it definitely looks to have benefits for commuter cyclists….especially those who would like to do it, but have been intimidated by route selection.  I think it will help them out.  I've heard already that they've got some bugs to work out and that it just might not be selecting the absolute best routes out there.  But I think it will prove useful for certain categories of riders and will hopefully continue to improve.
What I would like to see the bike maps do might not be possible…even for Google.  Last year I spent two months just outside of Austin in a little place called Spicewood, Texas.  It's not too far from Austin and all their great cycling roads, but the problem was that the main route to get to the good riding was via Highway 71.  I don't get intimidated by highway riding and I've been on some pretty scary roads….but let me tell you….the TX-71 stretch from Bee Caves to Spicewood, sure ain't no cycling road.  What I would have loved during my time in Spicewood was to have access to a map that would show me a cycling route to Austin with a "degree of danger" rating on each road.  Now that would have been cool.  I tried plugging in that route using the bicycle setting of Google Maps and it had me taking TX-71….no danger warnings….nothing.  "Are you trying to knock me off, Google Maps?"
Lance the Twitter King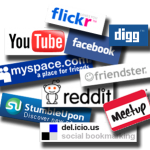 Finally, there is all those cycling tweeters tearing up the social media.  I'm pretty sure that cycling fans would be all over Twitter, Facebook, and other social media no matter what….but I kind of think that Lance Armstrong had a little something to do with the huge amount of cyclists you'll find in these places.
As a cycling fan, I'm extremely happy about the merging of cyclists and social media.  For one, I get to sit right beside people like Lance as they compete and go about their daily lives.  I find it so neat to get a behind the scenes look at what goes on with these people, and I'm happy that Twitter has allowed me to do it.
Secondly, it has enabled me to connect and make friends with some incredible cycling fans around the world.  It has also introduced me to so many interesting people with amazing stories….something I don't believe I would have been exposed to otherwise.
Congratulations to all of us cyclists, and congratulations to the bike.  You've made it in the online world, and this is just the start of so much more.
How has social media improved your cycling?  What do you think about Yahoo sponsoring a cycling team?  How has Google Bike Maps been working out for you?