#bikeschool: BikePure
Recent years have seen the sport of cycle racing careering from pillar to post on the subject of doping which have thrown our sport into the mainstream media in all the wrong ways. We have  seen some of the most 'original' and ridiculous excuses ever spouted by enhanced humans, ranging from Björn Leukemans' over-active libido to Floyd Landis' binge drinking and my personal favourite, Tyler Hamilton claiming his unborn twin made him do it!
Thankfully there are many riders and fans out there who are not only riding clean, but also openly preaching the benefits of clean racing. One of the major contributors to this fight to protect the integrity of cycling and promote clean cyclesport is Bike Pure. Many of you will have heard about Bike Pure already and seen their wristbands on TV and being a big fan of their work, I caught up with one of the founders, Andy Layhe.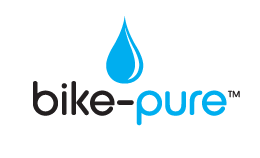 Phoenix Rising
StevieDexter: Welcome to #bikeschool, Andy. So who makes up the Bike Pure team?
Andy Layhe: Bike Pure is basically myself and best mate Myles McCorry. Myles came up with the idea and we worked hard together, [we] still do. Myles lives in Ireland and I moved over to Australia from Ireland last November with my wife and kids. We have ambassadors in many countries who help us voluntarily and we wish to thank everyone for their support towards Bike Pure.
SD: I've been a big fan of Bike Pure for a while now and regularly have on-the-bike conversations with people fueled by the stickers and spacers I have on my bike. What are the origins of Bike Pure?
AL: Back in 2008 and 2009 we were frustrated at the large amount of positives, especial at the Tour de France. The sports reputation was taking a battering, especially at the Tour de France and we though we would try and inject some much needed integrity into it by forming Bike Pure. We alwa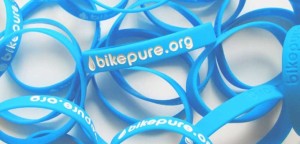 ys felt that the voice of the non-dopers was drowned out by the dopers and we wanted to give not only those riders, but normal cycling fans who had been let down, a platform to say they were against it. We've moved on a long way from our inception and our growth is testament to the strong feelings out there. Since our inception we have pushed for longer sanctions because it's clear the current two year ban isn't working. There need to be deterrents in place that really make riders think twice before doping. We also wish to see the Doctors and team staff punished and banned from the sport for administering illegal substances to young riders.
We're non-profit and sales from items on our store go back into promotion and the everyday running costs of the organisation. The wristband is fast becoming THE symbol for honesty and integrity.
SD: You mission statement says Bike Pure is 'for the fans, riders and the trade opposed to doping'. Which of those categories do you fall in to and how does that affect the way you run the organisation?
AL: We fall into all those categories we hope. We see ourselves as part of the Bike Pure family – it is a collection of many people, fans, ambassadors, role models, companies and coaches who support us. We collectively are making change. It's important that the industry gets behind us because they too have suffered the financial implications of sponsors dropping out of the sport due simply to the negative publicity. We are positive and a forward thinking group – at the end of the day cycle sport is a wonderful thing and we need to promote it as a healthy sport, not one where riders take transfusions and inject themselves with harmful substances.
SD: You have an extensive list of amateur and professional teams who support the cause, how much dialogue do you have between these teams in relation to new testing procedures and methods the teams themselves can use to remove the ugly head of this beast?
AL: We are in contact with the riders who form part of the organisation. The riders alignment is not only with Bike Pure, but also a commitment to their fans, coaches, family and team mates that they ride with integrity and honesty. It is difficult to engage with management of major teams as they have a job to do but we have input. It's about education and if young riders are aware not only of the illegal implications of doping, but the ethical standards of sport then that will go a long way in the thinking of the new generation of riders coming through. Take the Australian mens team pursuit squad and even Cameron Meyer – they all form part of Bike Pure and their average age is only 19 years of age. We are looking to this generation to make change and be sincere role models in the years to come.
SD: Bike Pure also has an impressive list of professionals who show their support and act as role models including; Team Sky riders Steve Cummings and Russ Downing, Garmin-Cervelo's Dan Martin and Australian National Road Race Champion Jack Bobridge, who regularly show their support at races all over the world. Have you had to chase and pester these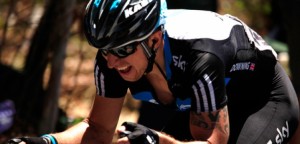 riders for their support or have they approached you as the organisation has grown in size?
AL: In our early days we did contact riders whom we either knew or had heard good things about. We have since stopped approaching riders unless they come on recommendation from a third party. We receive emails from young riders and coaches who really believe in what we're achieving and its rewarding. I even received an email from a young Australian junior rider recently. She had seen Cameron and others wearing the band and its very rewarding when we have young kids wanting to 'say no to drugs' and look to role models they can believe in.
A brave new world
SD: The Cycle Sport 2.0 campaign, which is at the heart of Bike Pure, is described as 'a blueprint for a new start to cycle racing'. What kind of feedback have you had relating the Cycle Sport 2.0 proposals from the fans, and from the professional organisations which the 12 point program is targeting?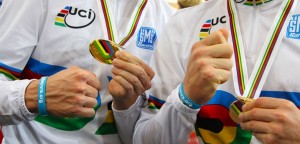 AL: We have a large volume of feedback on the proposals. It was nice to see the recent UCI comments regarding longer bans and they seem to be willing to implement many of the proposals we have been shouting about for the last few years. Of course the UCI won't credit us but I hope that due to our large following and the structures we have in place that they can see the fans want change.
SD: Who was involved in the evolution of Cycle Sport 2.0? I'm guessing it wasn't a random wish-list devised over a coffee break!
AL: Haha! Many of the ideas we have are born over a nice coffee! Myles was the instigator behind it and it's a great idea. Many ideas we have evolve into larger things and it's testament to our growth and development. We feel that education is the key though, we work with many coaches across many countries who talk to their riders about Bike Pure and if we can get this message across then all well and good. A lot of work we do isn't always seen at the forefront though, we work with many charities and other groups, teams and organisations to spread our message and help others in any way we can.
SD: If Bike Pure could have the perfect 2011, what would the world of cycle racing look like as we enter 2012?
AL: We really think that the governing bodies need to listen to the fans more. The fans are the backbone of the sport. It's an overused word but we need more transparency and more vocal noises from riders who are opposed to doping. Fans desire honest champions and I hope that Bike Pure are part of this new change we are seeing. Certainly many performances in the big tours are more believable than recent years but there's still a mountain to climb. Cycling is a fantastic sport and we've seen a resurgence in all ages and abilities getting out on their bikes. It's important that these people can have a sport to be proud.
SD: And finally, the question on everyone's mind… why are YOU Loving The Bike?
AL: I'm loving the bike but not able to get out as much as I used to. I raced for 20 years and now it's time to put something back into the sport that has given me so much. I call my bike rides 'looking over the hedges' as my now unfortunate lack of speed allows me to do this, taking in the wonderful Australian scenery that surrounds me! Funnily enough I'm enjoying carrying my additional body weight up steep hills and sampling good coffee.
Thanks to Andy for answering my questions with the detail and accuracy of a real pro!
Visit the Bike Pure store for a vast array of products to help support clean cyclesport and follow them on Twitter and Facebook.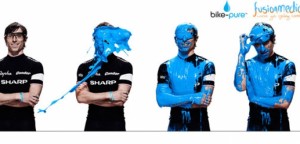 Until next time, keep Loving The Bike…
Stevie