#bikeschool: Happening Again
Last's week's Classmate Happenings post was very well received so we thought we'd follow it up with another week of happenings from our fellow classmates at #bikeschool.  Not only is #bikeschool the coolest hour on Twitter and takes place each Thursday night at 9PM EST….it's also a great hashtag to follow on a daily basis.  You never know what you'll find, or what someone might say.
National Taco Day
You know how #bikeschool'ers feel about tacos…..so yesterday was definitely an important one for all of us.  Thanks to @twittyboyd for filling us in on this oh so important day and I hope you all took a moment to salute the #TacoMakingRobot and eat a few tacos.
(NOTE:  Could it be?  Was @tweetyboyd actually wrong?  Looks like National Taco Day is actually today.  Oh well, nothing wrong with celebrating this one two days in a row)

Loving the Run goes Biking
Yes it is true….our run loving sister has been seen Loving the Bike, and they wanted everyone at #bikeschool to know about it.

You Have How Many T-Shirts?

A conversation with @futuremrschaps last week was the inspiration for one of Thursday's #bikeschool questions.  When we found out that Krissy had a total of 52 cycling t-shirts in her closet, we just had to find out if anyone else could even come close.  The question was asked and there wasn't anyone who could touch her….have a look into her closet: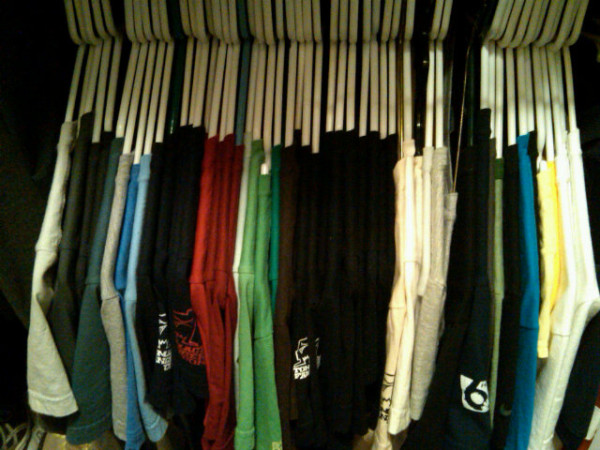 #bikeschool Spam
As far as we know, #bikeschool received its first official "hate" tweet last week.  It seems like some people don't really dig their tweet stream getting clogged up with #bikeschool tweets on Thursday nights. Can we help it if we're just that popular?  We do apologize to @Velocentric, and seeing as their Twitter bio states "We love bikes & believe everyone should"….we're sure they understand our love for #bikeschool.

Tweet of the Week
One thing that's for sure is that each week @bdix73 is going to come up with a tweet to knock you off your chair.  We're giving Bobby the tweet of the week…which just happens to be in reply to what @Velocentric had to say:

See you all at #bikeschool on Thursday at 9PM EST.