#bikeschool: Le Tour 101… Deux!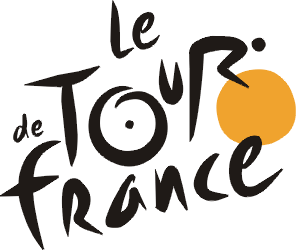 ED – Just as this post was about to go live I received word from the lovely people at ITV who host the Tour here in the UK that the predictions I made on behalf of LovingTheBike.com have just been published. I may be last in the list but it's a damn fine list to be bottom of! Here's the link to 'What the Experts are Saying'!
Oh yes folks…. it's just 5 days until the 2011 edition of the Tour de France and I for one can't wait! As some of you may know I'm heading to France at the end of the week to take in the the sights, the smells and the atmosphere of the Tour as well as to get hit with quite a few bottles of Evian and mini PMU lions thrown by the caravan  procession. This is a particularly exciting time for those interested in Pro Cycling, but as we identified a few weeks ago there are people out there who are going to be watching the Tour for the first time. This means their virgin-like goggle balls and confusion filled noggin-box may need some assistance in understanding what is going on in the race which will only increase their enjoyment of it. So I've put together an idiot's guide below to assist in building up those noggin-boxes. (The astute readers out there will have noticed the apostrophe signifies the guide belongs to me, therefor I'm the idiot… ergo… you can't be angry me with for calling it an idiots guide. WHAMMO! Another English language linguistic masterclass!)
The gloves come off in July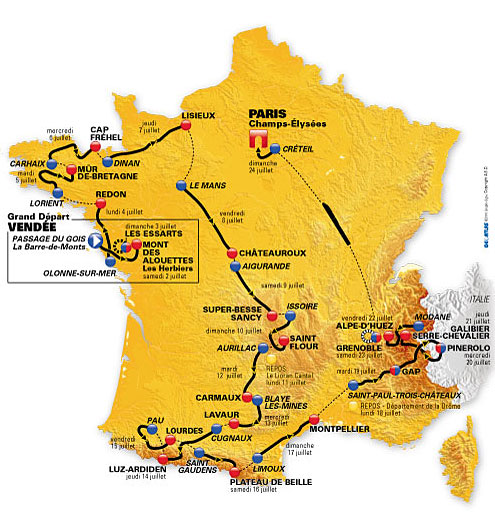 The Tour can be very casually described as a mind-meltingly painful 3,550 km (or 2,200 mile) bike ride around France and some neighbouring countries. Approximately 190 riders will set off from Fromentine as the the race heads in a northerly direction towards Brittany before spearing south towards the Pyrennes, that straddle the French-Spainish border and then just when you thought they couldn't throw any more at the riders, they pop over to the Alps in the east and make them suffer before heading to Paris and the Champs Elysee on the 24th of July. Oh… and they will average a staggering 40km/h (25 mph) over the course, often riding much, much faster than that. Like I said… mind-melting!
As they travel across the beautifully varying terrain of France there are 4 distinct types of stages that you'll see, each with certain riders specialising in that type of ride, which is why the construction of an well rounded is often essential to winning the Tour.
Prologue – Not classified as a full stage, this is a short (usually 10km or less) individual time trial (see below) used to decide who has the honour of being the race leader the next day. There may sometimes be short individual time trials in the middle of a stage race but these are usually mountain top finishes and it is only the first stage of a Grand Tour* that is classed as a Prologue. (*The 3 Grand Tours are Giro d'Italia, Tour de France & Vuelta a España)
Flat – Most of the race takes place on "flat" roads. This doesn't mean they are without undulation (in fact, they often include climbs that would terrify a club cyclist). But they invariably feature most of the competitors riding together in a big "peloton" (or pack) for 200km (or 125 miles) and can end in one of two ways: with a "breakaway" victory by an individual or small group; or, typically with a hair-raising bunch sprint. When the entire peloton crosses the finish line in a bunch, every rider in that bunch gets awarded the same time. This is why the GC contenders do not care so much if they finishes 143rd, because as long as there's no gap between person who finishes first and the group of people they are in, they'll still get the leader's time.
Neither of these scenarios have much of an impact on the overall standings of the race because breakaways are always chased down by the peloton if they contain serious contenders and bunch sprints result in all or most of the field being given the same time for a stage. But victory or a high place does generate small time bonuses, contribute towards other Tour awards and allow riders to pay back their sponsors with much-desired TV time.
Mountain– Most Tours are won in the mountains. Fact! And mountains come in all shapes and sizes (all mind-melting), with climbs rated four, three, two, one or "hors" catégorie, the latter being the most steep and literally translating as 'out of category'. Climbing from sea level to 2,000m (often more than once in a day), separates the men from the boys and one bad day can cost huge chunks of lost time. Real Tour contenders have to be able to hang with specialist climbers going up and everyone must hang on for dear life on the way down. Hill-top finishes often break apart the field most because they leave no time for anyone to catch up lost time on a descent.
Time Trial – Every man against the clock. These are shorter stages of around 50 km (as opposed to 150-250 km). But lots of time is won and lost as Tour challenges flourish or falter. The last-placed rider on the day of the time-trial rider first, followed two minutes later by the next highest, and this carries on until the race leader starts. Many Tours, including this years, also feature a team time trial, where the clock stops on the fifth of nine riders to cross the finish line. Both these types of stages can have a huge impact on a riders hopes of victory. It's all well and good being the best climber in the mountains and putting 5 minutes between you and your rivals but if you teammates have a poor time-trial pedigree then the team event may end up losing you lots of your tour-winning minutes!
Les Maillots
The biggest prize in cycling is a yellow jersey in Paris. This signifies overall victory in the Tour de France, an honour won seven times by Lance Armstrong and five by Jacques Anquetil, Eddy Merckx, Bernard Hinault and Miguel Indurain. Possibly the first thing people think of when the Tour de France is mentioned is 'The Yellow Jersey'. But there are other jerseys available to win. And it may shock you to know that there are some riders who do not want to win the yellow jersey, or at least understand they do not have the all round capabilities to win it, so focus on the more specialised competitions explained below.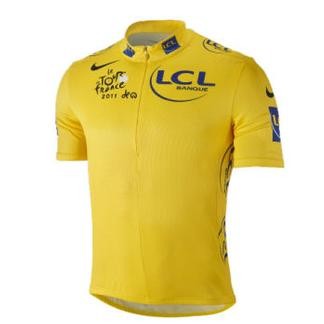 Yellow – This is the jersey everyone wants (ish). If you are in it, you are the overall race leader on aggregate time since the start of the Tour. It often changes backs a few times, particularly during the early flat stages of a Tour. But it normally finds its final resting place after a time trial or a gruelling hill-top finish in the Alps or Pyrenees. The use of an aggregate time does mean that it is possible to be in the race lead and wearing the yellow jersey even if you have not won a stage but have been placed consistently high on each stage finish… although I can't remember a time when that happened!
Green – The sprinter's (or points) prize goes to the most consistent stage finisher and is normally worn by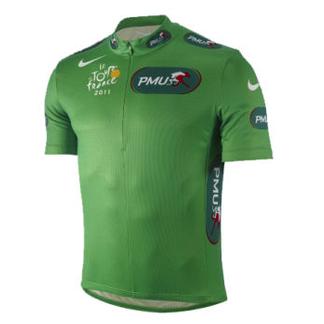 one of the big powerhouses of the field. With a sliding scale of points available to the first finishers on any day, contenders for this jersey bunch at the front of the peloton for dangerous sprints on flat stages. The rules for this competition have changed slightly this year but they are explained further down the page.
Polka Dot – Conversely, King of the Mountains contenders live for the climbs. They tend to be slimmer in build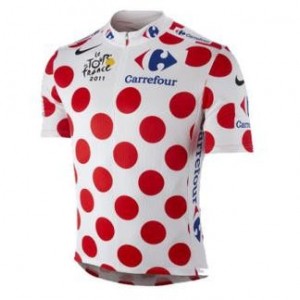 and bounce up slopes to pick up the points on offer to the first riders over every hill. As well as the GC (general classification) contenders being very good mountain climbers, they will have certain domestiques who go up hills like a goat and will assist them in the high mountains by pacing them or chasing down dangerous breaks that challenge a riders race lead.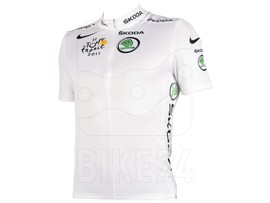 White – This goes to the best placed under-26 rider in the general classification and is often battled for by the younger riders as fiercely as the yellow jersey as it can be seen as a prelude to future Tour victories.
Rainbow – This is not up for grabs in the Tour, but can be seen on the back of the World Road Race champion Thor Hushovd (if he's not wearing yellow or green, of course). Country champions also have the right to wear national instead of team colours.
In addition to the above competitions, there are three related awards available, one of them of dubious distinction:
Combativity – The cyclist who is deemed to have put in the bravest show on a stage wins the right to wear a white-on-red race number (as opposed to black-on-white).
Lanterne Rouge – This is the mocking moniker for the last-placed man in the overall classification, named after the red light shown on trains to mark the rearmost carriage. This man is often found towards the tail of the field, which is a risky spot. On any day, if a rider falls too far off the pace, he can be swept up by the "Broom wagon" and out of the Tour. As this post went to press I was still trying to confirm this 'competition' still exists as ASO, the Tour organisers, were planning on removing it as riders were intentionally trying to win the Lanterne Rouge by going slow. Essentially trying to get round France in the slowest time possible that the time limit would allow.
Team – There are 21 teams of nine cyclists. After every stage, the times of the first three riders across the line from each team are added up and counted. The team with the lowest aggregate time in Paris wins the award and each rider in the leading team will wear a yellow backed number on their jersey during the race . It's usually the last award presented on the podium… and the one we care least about!
All Change!
For those who have got to grips with the rules and regulations of the Tour in the past… tough luck. The powers that be at ASO have decided to change some of the rules this year for the points and mountains classifications in order to liven it up a bit. At first glance it doesn't look like it would make much difference but bear in mind that if these rules had applied last year, Mark Cavendish would have been crowned the points victor rather than Alessandro Pettachi!
In the points competition there will now only be one intermediate sprint during each stage, as opposed to two or three in the past. Here 20 points are on offer to the first rider and a sliding scale for those close behind down to 15th place. At the finish line the points will vary, with 45 points available to the winner on a flat stage, 30 points on a hilly stage and 20 for a mountain stage and again, with points down to 15th. Due to these changes an intermediate sprint is worth the same as a stage win in the mountains when it comes to the green jersey.
I'm unsure what to make of this. The increased weight of the intermediate sprint could be a significant tactical change in the race. We might see some breakaway artists rack up points, then again we might see breakaways reeled in just so a challenger close to the green jersey can sprint for more points. Mark Cavendish will appreciate the chance to take big points in a sprint final but first week of uphill finishes could well see a more rounded rider wearing green (think Thor Hushovd who loves an uphill sprint), especially if they can latch on to a breakaway to mop up points from the intermediate sprints on a mountain stage. Certainly no rider can leave it to the finish line to get their points which has consistently been Cavendish's tactic purposely ignoring the intermediate sprints in previous years which has surely cost him the title.
The King of the Mountains award has also changed with lower rated climbs now getting fewer points, with only the first rider to the top of a fourth category climb getting one measly point. There are still 20 points for a hors catégorie climb but whereas 10 riders over the top used to get points, now only the first six get points and even then the sixth rider gets just two points. Plus points are doubled for the four HC summit category finishes. This is a clear way to reward pure climbers. No longer can a rider poach points on the flat stages and top up with a couple of Alpine breakaways. Not that this strategy was ever easy but last year's winner Anthony Charteau managed to win the competition yet stay relatively anonymous which doesn't make for exciting racing. This time points are distributed to those crossing the high climbs with an even greater advantage to those in contention at the finish of a stage compared to the earlier climbs on a stage.
So… if you;ve got all that, this is where you maths (not math) comes in.
The mountain points are distributed like this:
HC
1
2
3
4
1st
20
10
5
2
1
2nd
16
8
3
1
3rd
12
6
2
4th
8
4
1
5th
4
2
6th
2
1
And the green jersey points are distributed like this:
| | | | | | |
| --- | --- | --- | --- | --- | --- |
| | Cat 1 | Cat 2 | Cat 3+4 | Cat 5 | Intermediate sprint |
| 1st | 45 | 30 | 20 | 20 | 20 |
| 2nd | 35 | 25 | 17 | 17 | 17 |
| 3rd | 30 | 22 | 15 | 15 | 15 |
| 4th | 26 | 19 | 13 | 13 | 13 |
| 5th | 22 | 17 | 11 | 11 | 11 |
| 6th | 20 | 15 | 10 | 10 | 10 |
| 7th | 18 | 13 | 9 | 9 | 9 |
| 8th | 16 | 11 | 8 | 8 | 8 |
| 9th | 14 | 9 | 7 | 7 | 7 |
| 10th | 12 | 7 | 6 | 6 | 6 |
| 11th | 10 | 6 | 5 | 5 | 5 |
| 12th | 8 | 5 | 4 | 4 | 4 |
| 13th | 6 | 4 | 3 | 3 | 3 |
| 14th | 4 | 3 | 2 | 2 | 2 |
| 15th | 2 | 2 | 1 | 1 | 1 |
Every stage of the Tour de France is classified with a 'coefficient', a category to determine how hard they are and the easier the stage, the greater the number of points available for the green jersey competition. I have no idea why the have used the word 'coefficient' as it just seems to confuse matter. It is merely a rating of difficulty like in stroke index in golf. (I will not be providing a 101 in Golf for those that don't understand the stroke index system but this may assist with any technical golf problems) In 2011, the stages and their green jersey points will be distributed in the following way:
Coefficient 1: Stages 1, 3, 4, 5, 6, 7, 10, 11, 15, 21
Coefficient 2: Stages 8, 9, 16
Coefficient 3+4: Stages 12, 13, 14, 17, 18, 19
Coefficient 5: Stage 20 (time trial)
In reality, you shouldn't need to worry too much about these changes and where the points can be won as the commentators and media will be hammering it home at every moment possible but I thought it would be good for those who are interested to get the low-down early on.
The Countdown Begins…
This time on Friday I will be touching down in Nantes airport and on my way to Île de Noirmoutier where I spent a very, very happy childhood and adolescence on the beautiful sandy beaches… and bars! The riders will be leaving Fromentine on the mainland, coming across the bridge on to the island and then leaving via Le Gois, which is a tidal causeway usable only at low tide. The race will be neutrlised across Le Gois and then start racing proper when it hits the mainland again. I'm still quite nervous about my trip as although I've seen the Tour once in France and once in Britain, it's the first time I have purposely followed the Tour and so detailed plans have been constructed! Add to that my brother and a good friend are coming along too and I don't want to be disappointing them! Hopefully it'll all come together… and if not I'll just drown them in Kronenbourg and they'll forget what happened the day before! I am planning on blogging from the Tour, hopefully with pictures but keep you eyes peeled as I'm still not sure what form this will take. I'll be at stages 1, 2 & 3 with the second stage being a team trial (which I'm really looking forward to) so keep an eye out on your telly boxes for a giant Union Flag (and probably a Manchester City F.C. flag too) on the side of the road. I've even got a maple leaf flag for Ryder Hesjedal! Just because I can!
However you experience the Tour this year I hope it is a spine tingling experience for you and it feeds that inner craving for sporting excellence that only the Tour can provide. It is a truly fantastic event I cannot tell you how excited I am.
Wherever you are, keep the wind to your back and the sun on your face, this is going to be a great month.
Stevie
(with outrageously plagiarised cool-dude tag lines. Cheers @PedalmanTO!)