#bikeschool: Showering With Your Helmet?
It all started with a harmless discussion about what to do after you finish a ride.  This discussion took place on the Cycling360 Podcast with myself and Rob suggesting that someone can take their helmet into the shower with them to rinse it off.  Victor, being the wild man that he is, laughed at this and imagined us wearing our helmets into the shower.  We had a good laugh and that was the end of it….until it came up again in the Washing and Maintaining your bike podcast. The podcast listeners also had a chance to hear about this discussion by now and there was no shortage of crazy tweets circulating around showers and helmets.
It all got blown way out of proportion (but in a good and fun way) and I'm still laughing at many of the jokes that followed.  This discussion got so big that even the producers of the kids show, Phineas and Ferb caught onto it and included this sweet little clip in their Tour de Ferb episode (this episode also just happened to include a cameo by Greg LeMond).
[youtube]http://www.youtube.com/watch?v=Xh7aglNZSwU[/youtube]
Our own Loving the Bike UK Correspondent and #bikeschool contributor, Stevie, was right in the middle of all the joking and twitter antics, and went so far as to take showing with your helmet to a whole new level.  Check this out: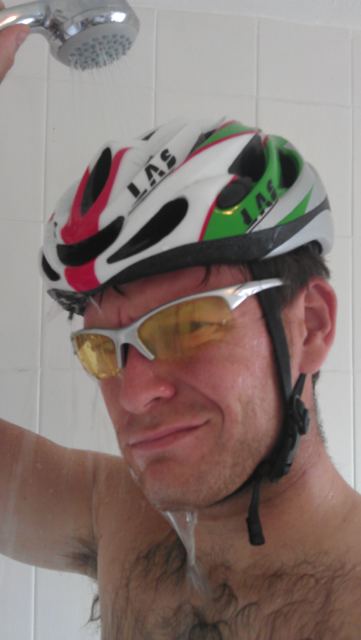 Okay, so with all of this nonsense and kidding aside….what do you think about taking your helmet into the shower to get cleaned off?  Let's hear your opinion and any suggestions that go along with it.