The Joys of Finding a Riding Partner
If you haven't noticed, I don't have a lot of posts about cycling with partners or groups.  I'm primarily a solo cyclist, so when Mike Neifert came to me with a guest post on "The Joys of Finding a Riding Partner" I was stoked to get it up and include some content on this subject.
We're giving Stevie the day off and felt that this post by Mike would fit in quite nicely for our #bikeschool series.  I invite you all to read Mike's story of a solo rider who found riding partners and how it changed his cycling.
The Joys of Finding a Riding Partner
by Mike Neifert
I met Dan on June 30, 2011. Our first encounter was by chance, though I suppose we would've found each other eventually since we live a little over a block from each other.  His garage full of bikes is often open as he prepares for a ride or maintains a drivetrain.  I eventually would've had to stop in out of curiosity.
For nearly eight years, I rode mostly alone.  My only rides with others occurred when my brother-in-law or a friend visited from out of town.  No one in town rode more than casually.
I learned to shift properly on my own as I experimented and read articles in magazines or online.  I developed what little climbing skill a flatlander from Kansas can gain without pointers from anyone.  Cornering and braking, which I learned early on was perfected as I rolled solo down the highway.
Then I moved 75 miles to take a new job and everything changed.  On June 29, I took my very first ride as a resident.  I rode around town, exploring the streets, finding out which ways to go and which to avoid.  It was an interesting, but uneventful ride.  Outside of logging the miles, hardly worth mentioning.
The next day, I left the house headed west into the wind.  I wanted to see what I could find beyond the boundaries of the city.  I found my way to Old Highway 54, rode it to 50th, turned south and rode into new territory.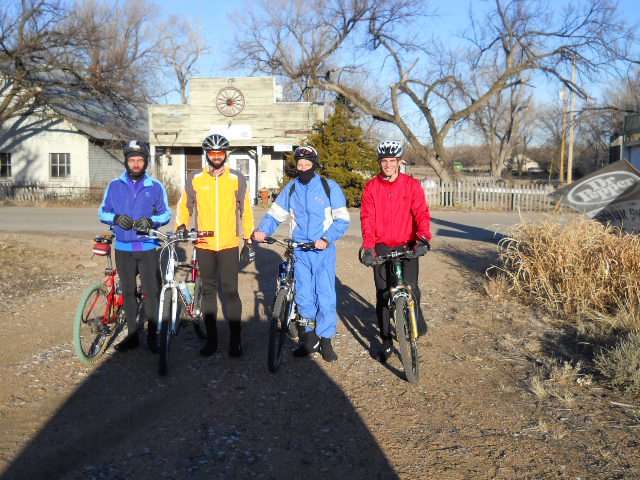 There were crews out that day, putting up new power poles.  I rode to where they were at the corner of 50th and 50th, swung around in a tight U-turn and headed back north.  As I crested a rise, I looked ahead.  There, less than a mile ahead, headed south, was another cyclist.  My heart jumped.  Remember, I'd ridden without companionship every day for as long as I'd gotten serious about throwing my leg over a bike's top tube.  My excitement grew as I approached this stranger and slowed.  I hoped he would stop.
He did.  We both pulled up and talked for a second or two, exchanged names – "Dan."  "Mike." – before he offered to accompany back into town.  He'd just left another cyclist – there were more riders! – and he thought if we hurried, we might catch him.
The ride back to town was a blur.  We rode lickety-split, sometimes side by side talking, sometimes one in front of the other trading pulls . The chase drove us on.
When we finally decided we weren't going to catch the "rabbit" we'd been hunting, we slowed up and chatted a bit on the way back to my house.  Before we got there, Dan suggested we stop in at another cyclist's house.  There were more?!  Three besides me?!  Brandon was at home.  We talked shop – bike shop that is – then set up a time to ride together, all three of us the next morning at 6:00.
For weeks after that, I didn't ride alone except on my daily commute to my office.  Bright and early every day, Dan or Brandon or both of them were with me.  I'd found something I'd been missing…partners!
The morning came, of course, when neither of my newfound friends was able to ride.  I rode solo again.  Even though I knew there would be more together rides, it was a lonely time.  What had for so long been the norm, felt odd.
The two-wheeled adventures the three of us have had since then include century rides on back roads and forays into the Gyp Hills on dirt.  We've ridden out-and-backs and loops small and large.  Dan called one day and offered a 50-miler with the wind at our back and a ride in a Jeep back to town . How could I say no to that?  Ten minutes after I hung up, we were flying north on Highway 281.
Last night the doorbell rang.  Dan was at the door, one of his mountain bikes tipped over in the yard behind him.  We talked for a while, like old friends do.  We covered everything and nothing.
School will be out in a few short weeks and my mornings will be freer again.  The open roads are calling. My riding partner – no, make that partners – and I hear them.  We'll be out again.  Can't wait!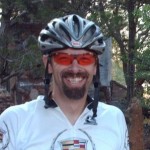 Mike Neifert is a cycling pastor from Pratt, Kansas.  He has his own blog called www.openmikey.blogspot.com and can be found chatting it up on Twitter and Daily Mile.  He also likes to run…but we won't hold that against him.