Britain Follows US Example And Test Runs Cycle Traffic Lights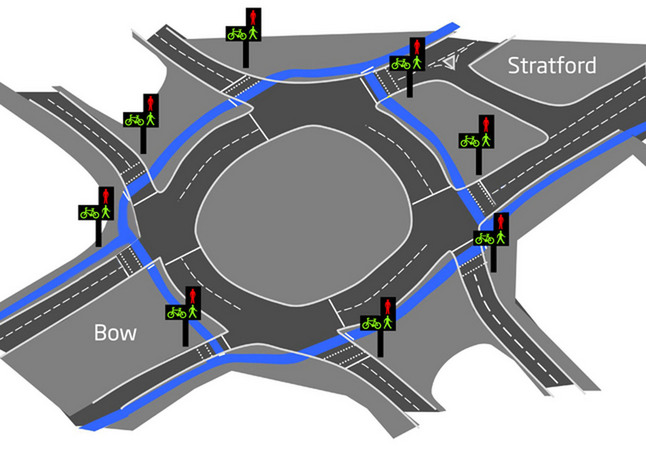 Readers in the US might be interested to learn that here in Britain we're taking a leaf out of your book – and carrying out a trial run of traffic lights designed especially for cyclists.
The scheme has been launched after the government looked overseas for solutions to counter increasingly grim cycling accident statistics – this year alone 84 cyclists have been killed on Britain's increasingly busy roads, whilst the number of those seriously injured has risen by nearly 25% in the last five years.
Research from the state of California showed that the introduction of cycle traffic lights led to a significant drop in the number of accidents involving cyclists. At a particularly dangerous junction the number of collisions involving cyclists dropped from 16 in the two years before introduction of the traffic lights, to two accidents in the two years after.
The impressive statistics have inspired the testing of similar lights at a dangerous roundabout in East London – and if they prove successful then they are likely to be rolled out nationwide.
The lights have proven successful in the US because they give cyclists a head start in front of traffic turning left – a manoeuver particularly dangerous for cyclists, because it's often difficult for motorists to see those on bikes when making a left turn.
Whilst statistics from the US suggest the lights have successfully reduced cycling accidents, some in Britain remain sceptical about the proposed scheme. It has even been claimed that drivers might be distracted or confused by the new lights; as they are to be placed at eye level, however, and will be much lower than regular traffic lights, this is unlikely to prove an issue. The new cycle traffic lights will be distinctly different to those used by motorists.
The president of the British Automobile Association, Edmund King, has also expressed scepticism about the traffic lights. King acknowledged that traffic turning left at lights is a safety problem, but questioned whether it was worth the expense of introducing an extra set of lights. Cycling organisations, road safety campaigners and personal injury solicitors have however welcomed the move.
Brit Peacock is a keen cyclist from the UK, currently blogging on road safety issues and we thank him for providing this insightful guest post today.
Image c/o icc.org.uk