Can A Mountain Bike Be Ridden On The Road?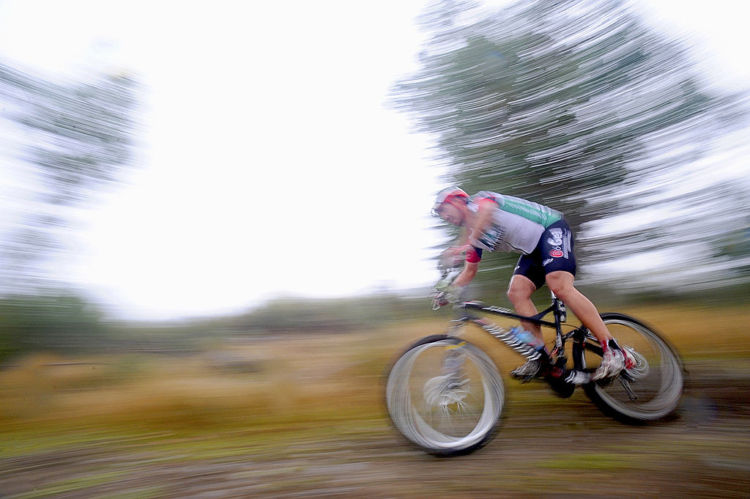 There are three major types of bicycles. You have the road bike and the mountain bike. Then there is the combination of the two bikes called — fittingly — the hybrid bike.
The frugal shopper wants to buy the bike that will open up the most riding opportunities to them. This desire for flexibility is especially prevalent among college students. They need a bike to get around campus, but they also want to go riding with their friends on the weekend.
The challenge to bike versatility is that each bicycle type has a specialization. Road bikes are stellar for asphalt riding. Mountain bikes are great for riding off-road. Hybrid bikes are excellent for asphalt but have wider tires and are easier to handle for the more casual cyclist.
Which Bicycle Give You The Most Bang For Your Buck?
Of all of these bikes designs, the mountain bicycle is the best all-around bicycle. They can ride in the harshest environments on earth, while also working well on asphalt. The knobby, wider tires will make it slower when riding on the road, but it is still suitable for most commutes and solo fitness rides.
However, there are some notable advantages to using a mountain bike in an urban environment. The wider tires of a mountain bike forgive you when you run over small bits of glass or when you hit a crack too hard. The shocks also enable you to go over curbs and even — with the proper practice — to descend stairs on the bike.
It is an urban assault machine.
One of the most telling indicators of the mountain bike's versatility is that it is the top choice for police and EMS teams across America. Their bicycle-mounted officers use mountain bikes for patrolling and responding to urban incidents.
Mountain Bikes Are Much More Affordable
There is the added advantage that these bicycles are more reasonably priced than a road bike. The mountain bike design uses tried-and-true shifters and a simpler, bulkier drivetrain that is heavier, but that costs less.
Road bikes, by comparison, use a lightweight drivetrain and skinny wheels. Due to the thinner design of these components, there is more expense required to ensure these parts will hold up to long-distance riding.
As a result, a mountain bike can be purchased for a mere fraction of the cost of a road bike. Cheap mountain bikes can be purchased online for as little as $300.
Disadvantages of Riding Your Mountain Bike On The Road
As alluded to in the previous section, the mountain bike is not your ideal choice for road riding. Road bikes are light, sleek and fast. An out-of-shape rider will easily cruise at 12-14 miles an hour on one of these machines.
A mountain bike is heavier, uses wider tires, and is slower on the pavement. The rider from the above scenario is likely going to cruise along at around 8-10 miles per hour.
There are a couple of tricks that you can implement, that will make your mountain bike faster on the road.
Using Your Mountain Bike For Long-Distance Road Riding
If you find yourself only riding on the road, you may want to switch your tires out for road slicks. These smoother tires are only 1.25″ -1.5″ ad significantly reduce your rolling resistance.
Some cyclists own a second set of wheels that they mount their road slicks on. Owning a second wheelset allows them to switch quickly between asphalt and off-road riding.
As your distance increases, you will want to invest in bar ends for your handlebars. These extra grips connect to your existing handlebars and provide you with a different position for your hands and can allow you to shift your body on longer rides.
Converting A Mountain Bike For Road Touring
It is amazing how many people choose to do road touring on a mountain bike.
If you are considering it, you need to look at adding two, additional, upgrades to your bike.
The first upgrade would be some version of "rams horn" handlebars such as the Salsa Woodchipper. These bars provide you with more hands positions and are the difference between a comfortable ride or screaming from lower back pain every time you've been riding for more than three hours.
The second upgrade would be to switch the front fork out from shocks to a solid fork with holes drilled in it for mounting panniers. The shocks eat up a significant amount of energy and switching to a steel fork will help you be more efficient on longer rides.
The beautiful thing about touring on a mountain bike is that the bike is pre-built for heavy loads and adverse conditions!
Converting A Mountain Bike For Sprint Triathlons
Triathlons are an intriguing sport that combines running, swimming and cycling into one event. Many local communities hold these events, and most of the participants complete their first triathlon on a mountain or hybrid bike.
In addition to switching the tires out for road slicks, you might invest in "aero bars." These bars clip on to your existing handlebars and provide a surface for you to lean on and lower your upper body. This aerodynamic position is extremely comfortable for long rides and offers the added benefit of reducing your wind resistance.
Optional, but a reasonably inexpensive upgrade.
Road Vs. Mountain Recap
As you can see, the mountain bike is one of the most versatile options for the new rider. The hybrid and road bike cannot handle the harsh, off-road environment.
Only the mountain bike can cross seamlessly between worlds.
Granted, a mountain bike will never be as fast on the road as a road bike. So if you have a friend who you hope to ride with, you might buy the same type of bike that they frequently ride.
Otherwise, for the shopper who wants the best of both bikes, a mountain bike offers that guaranteed flexibility they are seeking.
Photo Wikimedia.