Cold Weather Cycling with the Twin Six Fall Collection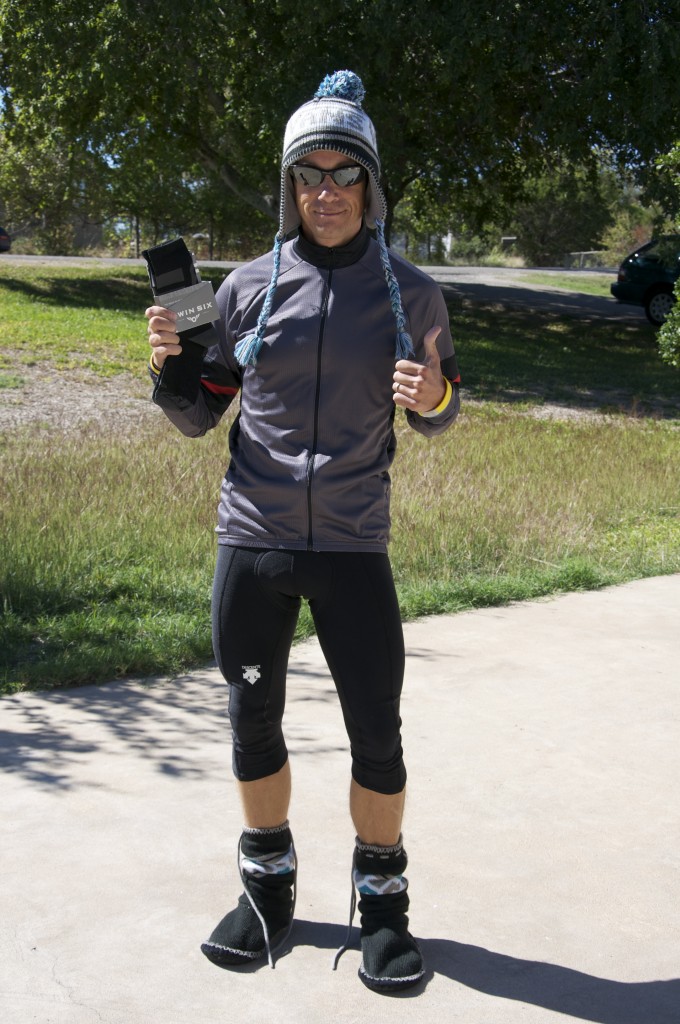 Yes, cold weather cycling clothing is necessary even in Texas…especially if you dislike being chilly as much as I do. You'd think that a guy like me who's from Canada would find even the coldest temperatures in Austin to be balmy sun tanning weather, but that's exactly why I'm here and not there.  I am the biggest cold weather wimp around.
Oh, before I get into this (and in case you don't read any further), we've got a fantastic Twin Six Giveaway for a Jersey of your choice.  See the bottom of this post for details.
There is a lot of great cycling gear out there (including the #bikeschool Jersey and  Loving the Bike Kit from Groucho Sports, of course), but I've always liked what the boys from Twin Six put out.  I had one of their T-shirts already, but when Mark from Twin Six sent me a jersey to try out from their Fall Collection I was very happy to add it to my growing closet of riding clothing….and it came at the perfect time.  Oh, and thanks for the socks as well Mark.
My "The Deluxe" jersey arrived last Tuesday and on Thursday we got hit with a short, but cold, front that moved in.  I dug out my 3/4 length bibs, put on the new Twin Six jersey, went riding, and am now ready to give you my feedback:
The Twin Six "The Deluxe" Jersey
In an ideal world, we'd never need anything more than a regular short-sleeved jersey….but if it does have to get cold, then a cozy long sleeve like this one is oh so necessary.
They call it "100% Super-Soft Micro Polyester".  I call it comfy.
The temperature was around 60F (15C) when I rode, even though it felt much colder. The jersey performed beautifully at this temperature, but in anything colder I would need to wear a cycling jacket or extra layer for sure. (I told you, I'm a serious wimp)
Made in America – Even though I'm a Canadian, I have to say how great it is to see clothing still being made over here.  Nice job, Twin Six.
Coolness Factor – Being Grey and Black, the jersey doesn't pop out as being one of the most brilliant one's out there, but it's super stylish and made me feel like a rock star when I was wearing it.  I'd have to say this is one of Twin Six's strengths…they put out "cool" stuff.
This jersey has nice big pockets and all that jazz.  What can I say…it's a solid jersey that fits the need.
It has since warmed up again here in the Hill Country, but there's no doubt that more cold days are on the way.  With helpful accessories like my new Twin Six, I'm ready for it.
The Contest:
Thanks to everyone who told us about their favorite Twin Six jerseys and for entering the contest.  Entries are now closed, and we've selected a winner using random.org.
Congratulations to Michael Deming who is the lucky winner and will receive his choice of a "The Cross" jersey from Twin Six.  Huge thanks to Mark and the boys over at Twin Six for partnering with us on this contest.
We usually don't make you work too hard to enter our contests, but for this one we'll crank up the entry just slightly.  Head over to www.twinsix.com and let us know which jersey is your favorite (let us know what your second favorite is as well in case they're out of stock).  We'll collect comments from today through Friday at Noon EST, and the lucky winner (who we pick using random.org) will receive their dream Twin Six jersey.  How awesome is that?  Pick your jerseys, tell us about it in the comments below, and we'll announce the winner on Friday afternoon.