Cool Cycling Analysis from Training Peaks and the USA Pro Challenge
If you're following the USA Pro Cycling Challenge this week, you just might want to check out what Training Peaks is doing to help bring another dimension to the race.
Training Peaks is the official race data partner for the USA Pro Challenge and this year they are offering us all the chance to get an inside look at the power, heart rate, and GPS data from several of the riders.  Along with this, they are also providing an interactive activity viewer and graphics to help make sense of the data.  This information can be found at trainingpeaks.com/USAPCC.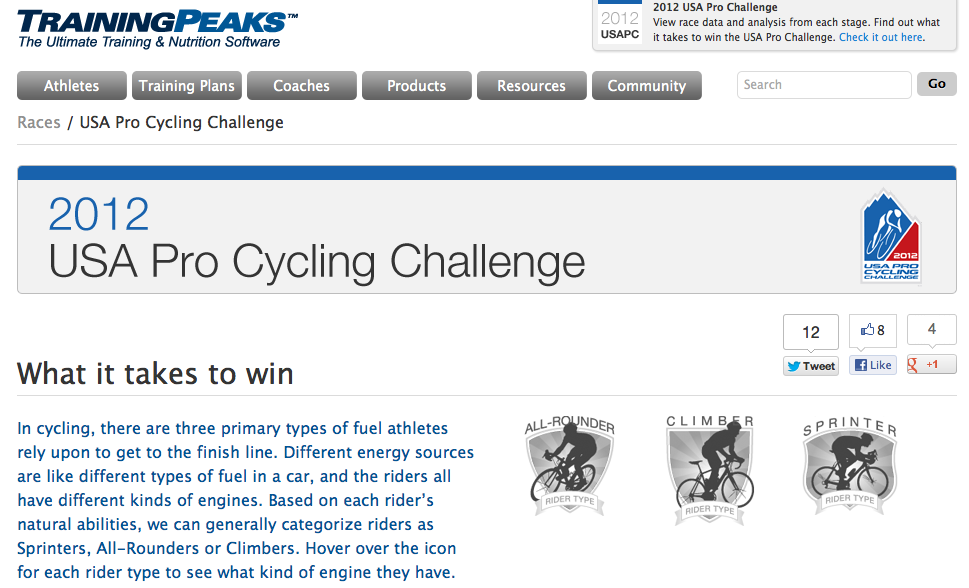 Not only is this a cool way to get better connected to the riders, it will also help cyclists better understand what all the numbers mumbo-jumbo is all about.  Many of us are now tracking our rides with all sorts of data, but we might not know exactly how to use that information to our advantage.  If you do track your data, be sure to compare it to what Training Peaks will be posting from these pro riders so you can see just how incredible their performance actually is.
USA Pro Challenge CEO Shawn Hunter says, "Being able to get insight into the numbers is another way for fans to see how the race played out. It's a perfect complement to the live and post-race broadcast and print coverage that will be provided via NBC, the RadioShack Tour Tracker and other media outlets."
Training Peaks kicked off this analysis feature on August 20, 2012 for stage one, and will continue through Sunday when the race finishes in Denver.