Data for Goals – Mac Mondays #1
Regular readers of Loving The Bike may be curious as to why we are starting a feature called "Mac Mondays".  I love technology (especially Mac computers and the iPhone) and  how it is becoming more and more integrated into our everyday lives; and, I noticed that it can be used in "cycle life".  Every Monday in September I'm going to highlight and review an iPhone app that hardcore and everyday cyclists (like me) might find useful.  If you have suggestions for future reviews, email me.
Cyclemeter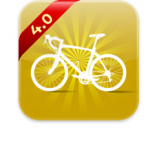 Cyclemeter is an iPhone app that doesn't require login to a website, no uploading data, no monthly subscriptions, and it doesn't have any screen-stealing ads.  It tracks your workouts (cycling, running, walking, etc) and keeps the data on your iPhone to easily determine progress for a chosen activity.  Your time, location, speed and distance are continually recorded as soon as you press start on the app.  (Note: Cyclemeter does not support iPod touch or the first-generation iPhone, which lack GPS capabilities.  Apple's new iOS4 software allows the app the run in the background to continue tracking and recording your stats.  Multitasking is not supported on the iPhone 3G by iOS4).
When you use the Apple earphones with remote, you can monitor your progress with customizable/automatic announcements (speed, distance, time etc.).  After a ride or activity is completed, your results are displayed on maps, graphs and a calendar.  A useful feature is the icons used to compare similar activities.  Each activity is ranked and compared with color icons to easily see when you performed better.  The ability to add notes to completed rides is also useful so you can remember if your performance was lower due to a head-wind.  Finally, competed workouts can be exported (in your choice of GPX, KML, and CSV formats) to keep detailed records and analyze your workouts.
A unique feature of Cyclemeter is its ability to connect with social media sites and email.    Users can log in to Facebook and/or Twitter and Cyclemeter will automatically send out user-defined updates.  Emails can also be automatically sent to family, friends or coaches to update your progress and location.  Cyclemeter also includes text-to-speech technology which allows you to hear replies from your email, Twitter, or Facebook accounts.
My Thoughts
I've been using Abvio's Cyclemeter for the past 3 weeks.  This is the first time I've used any kind of technology on my rides and walks (other than my iPod/iPhone for music) and I can honestly say that it has changed the way that I am engaged in the activities.  The configurable announcements have motivated me to try to continually better my previous results and I like how I am notified about my performance in relation to earlier rides.  Initially, I used the Joby Gorillamobile to attach my iPhone 3GS to the handle bars on my mountain bike; but, I found myself preoccupied looking at the app and not paying attention to my surroundings and now use the audio settings as my preferred method for updates (audio playing in the iPod app stops for the announcements and resumes at  the pause point).  I found the results/reports to be informative and graphically appealing and the user-interface intuitive.  The only drawback I discovered is that the text-to-speech technology is difficult to understand (especially with usernames from Twitter) but this may only be my experience and the other features far out-weigh this observation.
The Future
Loving The Bike is proud to be the first to announce new features in the soon-to-be-updated Cyclemeter app.
The first new feature that will be added is Automatic Stop Detection.  The app senses when you have stopped moving and attributes time automatically to stopped time, so that your elapsed time and other statistics cover only when you are moving. Elapsed time will continue to increase until the stop is detected, and then will roll back to when the stop started. (Note: Off by default, turn on in Settings.) This has been a requested feature from numerous Abvio customers as stopping for lights can mess with the time measurement.
The other new feature will be Calendar Sharing.  Cyclemeter synchronizes your workouts to your iPhone Calendar when you tap the Done button in the Stopwatch view, and when a workout is edited. This is useful because the iPhone Calendar may be shared with iCal or Outlook, and with external calendars, such as Google Calendar or Microsoft Exchange.
Current Cyclemeter owners should be able to receive the new updates free of charge on Tuesday September 7th.  Cyclemeter is available from the Apple iTunes store for $4.99.
"Cyclemeter gives you the data that helps you achieve your goals, whether it's to run a mile or a marathon, cycle a park or a century, or walk a block or a march."