Cycling for Optimal Weight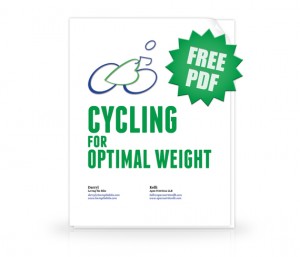 How many of you are using cycling to help achieve your ideal weight?  How many would like to obtain this through cycling?  We all ride a bike for different reasons, but health and fitness is definitely a common theme that runs through a lot of us recreational cyclists.
But how do you get there?  How can you use cycling to lose weight?  Sometimes just jumping on the bike isn't enough.  It takes the right level of cycling….and the right type of fuel to make it happen. To be honest, the nutrition side is probably the most important. I know from my own experience that I can cycling, and cycle, and cycle my butt off….but if I'm eating like crap my body doesn't stay looking like I want it to.
So here it is.  I've joined forces with my teammate Kelli and we've put together the "Cycling for Optimal Weight" plan.  This mini e-book is totally free and we're not even using it as a trick to capture all your e-mail addresses.  Yeah, I'm totally going against the grain on smart blogging tactics….oh well.  If you'd like to be included in the LTB mailing list feel free to send in your e-mail right here.
Either click the e-book image above, or download the book at:
https://lovingthebike.com/cycling-for-optimal-weight.pdf
 The nutrition side of this plan includes excerpts from Kelli's great new e-book called "Fuel Right: The Endurance Athlete's Guide Daily Nutrition, Training Nutrition, and Achieving an Optimal Weight".  She is a fitness nutrition genius and has packed it all into this incredible book.  As part of the Loving the Bike "Cycling for Optimal Weight" plan, she's included what you need to get you started.
We're giving away 4 of her complete e-book's to lucky readers who leave a comment letting us know why you need this incredible tool. For those of you who'd like the book, but don't win one….she is offering all Loving the Bike readers a 25% discount off the $19.99 price tag.
Either way, we're giving you enough right here in this post to get you well on your way to optimal heath.  Go on….check out the plan and get started.  We're 100% confident that following this plan will take you where you want to go…and we want to be there with you along the way.  If you decide to go on the plan (and we hope you do), we'd like to track your progress and watch as you achieve your "Optimal Weight".  Please contact us and let us know that you are on board.