Cyclist May Use Full Lane…But Should We?
The "bicycle may use full lane" signs have started emerging all over, and one just recently popped up on a road that leads to several of my training routes.  But I'm not so sure about them.
The history of these signs (also known as R4-11) dates back to their origin in 2009, but have definitely become more popular over the past year.  They were introduced to be used for the following purpose:
BIKES MAY USE FULL LANE (R4-11) signs are intended for use where travel lanes are too narrow for bicyclists and motor vehicles to operate side by side in the same lane.  However, the presence of a sign is not necessary for cyclists to use the full lane.  Rather, the sign serves as a reminder of the law in locations where the volume of cyclists, the roadway geometry, and other conditions suggest that motorists may frequently encounter cyclists occupying the center of the travel lane.
Okay, so as a cyclist who is passionate about our sport, of course I like seeing laws being made and changes that make roads better and safer for us to ride on…but I'm not totally convinced about the effectiveness of the "May Use Full Lane" signs.  At least not in all situations.
Let me take the sign over here on Bee Cave Parkway as an example.  The road doesn't have a shoulder area to ride on, but it does have two lanes of traffic going each way with what I feel is more than enough room to ride along comfortably at the side of the road.  Since the sign went up a few months ago, I've  only seen one cyclist riding down the center of the lane….but I'm sure there have been a whole lot more.
That time where I did see a cyclist using the lane, I also witnessed a vehicle who appeared to be annoyed at the bike being there and quite aggressively swerved around him to get by.  I personally don't feel like that cyclists need to ride down the center of this road, at least not at the time of day that I'm on it.  It's not over crowded and there's plenty of room for vehicles to pass by when riding at the side of the road.  Plus, with these signs being quite new…drivers don't know how to use them or even pay attention to them being there.  All it takes is one distracted driver (yeah, remember to Drop the Phone) and a cyclist taking up the center of lane is toast.
But like I said, there are instances where these signs do make things better and can still keep cyclists safe.  In downtown San Antonio they have very narrow cobblestone like streets.  The traffic is super slow and whole downtown vibe is quite cool.  There's also a lot of cyclists who ride these roads and being allowed to take up the full lane works perfectly fine.  In the times I've been there, I've never witnessed any frustrated drivers and the cohesiveness of vehicle and bicycle seems to flow quite nicely.
So that's my opinion…what's yours?  I thought it would be interesting to get the opinion of my cycling friend and Chicago bicycle accident lawyer, Jonathan Rosenfeld.  Here's what Jonathan has to say about the May Use Full Lane issue:
"I frequently see bicyclists expose themselves to added dangers when they hug the shoulder of the roadway.  Even when cyclists remain on the roadway itself, the edge of the road is frequently littered with debris and uneven surfaces which can contribute to falls or rapid maneuvers to avoid the obstacle.
Particularly in cities where street parking may be allowed, riding along close to the side of the road may expose cyclists to situations involving 'doorings' where drivers open their car doors without looking.
Consequently, bicyclists need to remember that they have just as much of a right to use the roadway as vehicles– and by positioning themselves squarely within the lane of traffic they actually may be taking an important measure to improve their safety."
There's even been a Facebook page set up promoting the fact that cyclists belong in the traffic lane, and they recently came out with this little graphic explaining why we belong to be there.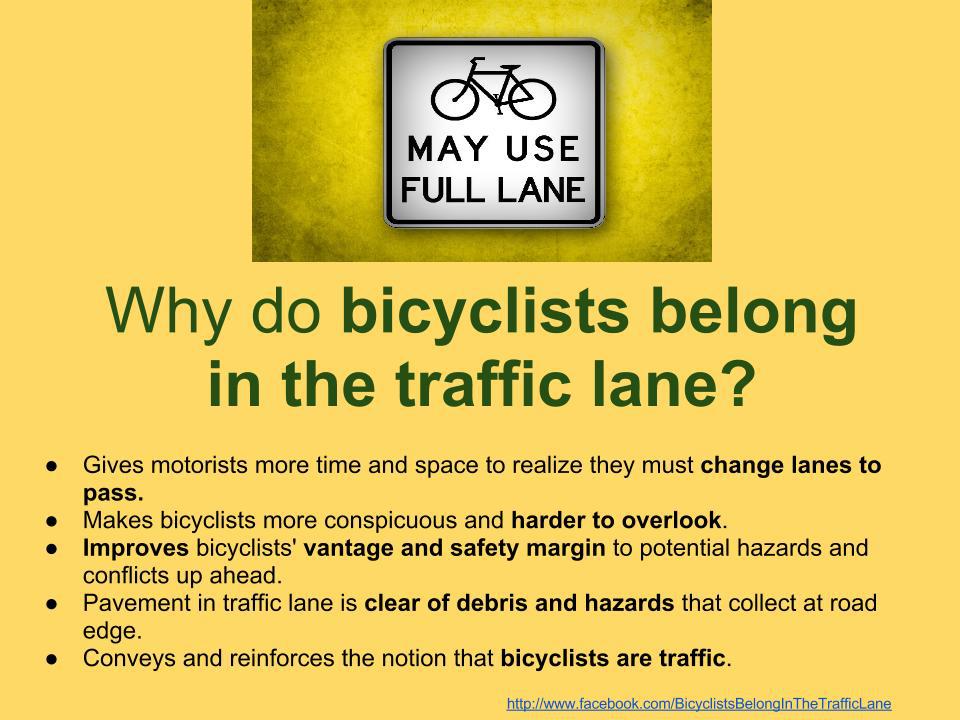 It's good reasoning, but I still personally feel that it may not be safe for a cyclist to take advantage of the full lane in many situations.  The signs continue to pop up and time will tell how effective they are, and if they improve conditions out on the road….and make life better for us cyclists.