Developing a Love for Mountain Biking
In October we kicked off our monthly mountain bike feature with a rockstar post by Greg from Singletracks, and he told us all about his top 3 mountain bike tips.  Then in November he told gave us 3 reasons why winter in mtb season.
Greg will be back with another post later this month, but today our own Aaron Madrid checks in with a great post about how he's recently developed a love for the mountain bike.
Developing a Love for Mountain Biking
I'm not really sure why I started out on a road bike.  I think it was just the idea of going fast.  When I started riding I was considerably heavier, and "fast" was never an adjective used to describe me.  If you have moseyed around Lovingthebike for long, than you know all about my road cycling and love for the commute.
Recently though, things have changed.  I won't deny it, my road bike love hadn't lessened any, but the excitement from going fast had somehow lost its sheen.  I think between my big fall towards the end of the summer, the cold weather, and other various activities taking up time in my life (I've recently started a cycling advocacy group in my home town www.bicyclelafayette.org) I just wasn't feeling the road bike as much as I had before.
One of the first big events my advocacy group tried out was Take a Kid Mountain Biking Day sponsored by the IMBA.  I knew we had some mountain biking trails around town, but I had never had the opportunity (or that much of a desire) to try any of them out.  Our event went down without a hitch.  One of our local bike shops, Virtuous Cycles, even came out with some demo bikes for any kids or adults that didn't have a ride that would accommodate the trail.  Towards the end of the day, I decided to try out the trails myself after some goading from my friend John who had been racing mountain bikes all year.  I hopped on a sweet full suspension Kona 29er and headed out.
The single track trail lead us back into some woods I knew from my childhood.  Never before had I experienced something quite like what went on that day.  I realized quickly that mountain biking is a completely different animal than road cycling or commuting.  Where road cycling tests your legs, mountain biking is much more of an upper body and core focused ride.  Weaving in and out of trees, staying on the trail, and climbing obstacles like logs and big rocks, creates an entirely different experience.  I fell in love after just one ride.  My passion for cycling was instantly rekindled and I knew I had to get myself a mountain bike.
As if it was meant to be, my local shop happened to have a sweet bike in the back that was the perfect size.  I wanted to get a bike that could take a beating and destroy any terrain.  The chromoly steel, simplicity of a single speed, rigid frame, and massive 29er wheels of the Kona Unit fit the bill perfectly.  I took the bike out several times to test it out, and each time my new love only deepened.  Since that first week test riding I have been out riding trails as much as possible.  We have a few nice trails in town that offer a variety of challenges, from some steady hills, to rocky paths, tight switchbacks, to drops that I still haven't managed the courage to test.  Mountain biking has become my new obsession.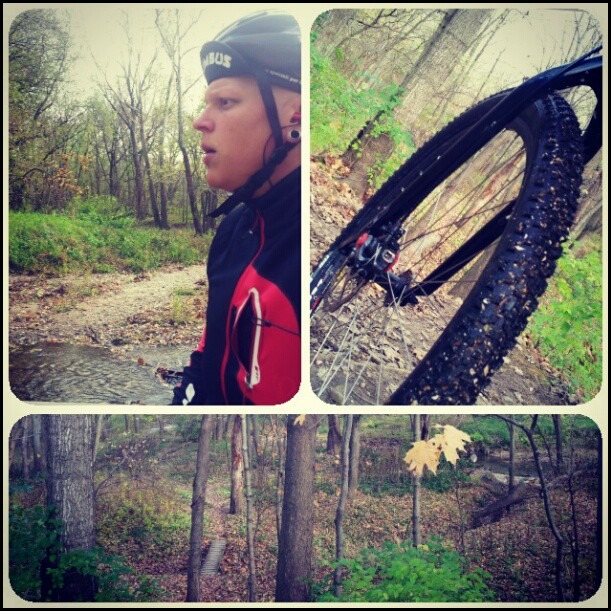 Over the coming months I plan on testing my skills and learning as much as I can.  I am already working on some video ideas to take you along on some of my trails so you can experience the excitement with me.  I have taken to riding my single speed to work, which presents new challenges to the commute due to the drastic difference in gear ratio between a mountain bike and a road bike.  I am experiencing so many things again for the first time that I felt it only right that I share my exploits with all of you.
If you already have ridden some trails and experienced the challenge and joys of mountain biking, then you will know what I am talking about.  If you haven't yet tested your woodsmen skills, then I highly recommend you try to do so.
I'll be sure to keep you posted on what I am learning so that you can hopefully avoid crashing into trees.  Thus far my lessons learned have been pretty simple. Your bars are wider than on a road bike…watch out for trees.  Clipping in is scary again…watch out for trees.  Leaning forward when you jump is not a good idea…watch out for trees.  Jumping stuff is awesome…watch out for trees.
Be sure to stay tuned for more lessons on mountain biking.  If you are already well versed in the art of mountain biking, then shame on you for not trying to tell me about how awesome it is sooner.
Loving the Bike, as always…
Aaronthestrong