Do you see the cow too?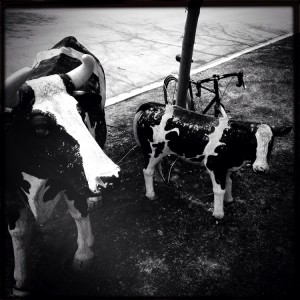 It's never good news when awakened by a phone call at midnight.
One of my oldest and dearest friends passed away on Sunday night. I never went back to sleep.
I felt physically and emotionally exhausted on Monday morning. There were people to call and meetings to cancel. There were plans to be made. I couldn't concentrate.
About noon, I just wanted to crawl under the covers and sleep, but instead, I went for a ride.
My legs felt heavy as I turned the pedals. I meandered up and down streets in my neighborhood, never venturing very far from home. My thoughts wandered and tears ran down my face.
I turned the corner of a street I had never been on before and spotted two cows on a front lawn up ahead. And I laughed out loud.
Do you have a story that is told and re-told every time friends get together? You know, one that becomes the folklore of your friendship?
Yeah, that story…
We were together in Santa Fe, and it was New Year's Eve. We were heading home to his place up in Tesuque after another friend's party and I was a little tipsy. Vodka and altitude can do funny things to one's perception, you know. Luckily, he was driving.
It's very dark at night once you're out of town. Very dark. All of a sudden we came across a cow in the middle of the road. Just standing there, illuminated only by our headlights, looking at us. I'm not sure if you've ever been to Santa Fe, but it's not exactly farm country. Seeing a cow was unusual to say the least. Seeing a cow at midnight on New Year's Eve in the road was beyond my comprehension at that moment.
I turned to my friend and asked, "Paul, do you see the cow too?"
To which he responded in his classic deadpan manner, "Yes, Suzanne, I see it too."
And we laughed our asses off. In fact, we could hardly get underway again because we couldn't stop laughing.
So when I saw these cows on Monday, once again I could hardly believe my eyes. It was if he was talking to me. Reassuring me that yes, he did see the cow, and please, take comfort in decades of memories. Remember the laughter and tell the story. Again.
My heart is broken and I miss him terribly.
But I'm very happy I went for that ride.
– Suzanne