Doing the Extraordinary (on a bike)
Next spring, Scott Thigpen is competing in the Tour Divide and it just goes to show that ordinary people can achieve amazing things when they believe in themselves and focus on a goal.  Scott is here today with an inspirational post that will help kick start your Make it Happen Monday.
Doing the Extraordinary: My Quest for the Ride Divide
by Scott Thigpen
I'm on a mission to show that ordinary people can do extra ordinary things if they put their minds to it.  My extra ordinary thing?  The toughest mountain bike race in the world known as the Tour Divide.  It's 2,700+ mile "race" across the spine of the Continental Divide starting in Banff, Canada going all the way to the border of Mexico.
I'm no pro, in fact I've only been mountain biking for about three years.  Like most Americans, I'd grown sedentary and overweight and battled the yo-yo diets and dealt with depression.  It wasn't until one day that I decided to hop on a bike and ride around the neighborhood, that things changed.  I barely could get up the driveway.
One thing led to another and before you knew it, I was entering myself in a mountain bike race.  Then two races, then a century, then a cyclocross season….and onto ultra endurance rides and races.
As I was ramping up the mountain biking, I saw the movie  "Ride the Divide" which was a documentary about 13 riders racing the Tour Divide.  I was smitten and seduced by it and with the blessing of my extremely understanding and supportive wife, I am embarking on my journey towards Banff next June.
Along this journey I have become keenly interested in diet, health and what fuels an athlete.  In fact I've come downright passionate about it.  So this race across the country is more than just a race, it's a learning experience in health, time management, finding out what's important, and remembering the people most important to you.  And most of all, how precious life is.
I am living proof that an ordinary person can do extraordinary things.  Just believe in it.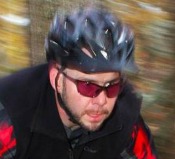 Scott Thigpen runs an active blog about gear, training, thoughts and interviews with people who have helped him along his journey to the Ride Divide.  Find out more about Scott and read his stories at www.driven2divide.com.