Love me or hate me for it….but here's a bunch of things about people and life that I just don't understand:
I don't get the concept of racing to work in your car so that you can be there on time, or early.  Aggravating all the other drivers (and cyclists) around you so that you're there maybe 10 minutes faster.  Will those 10 minutes actually mean anything?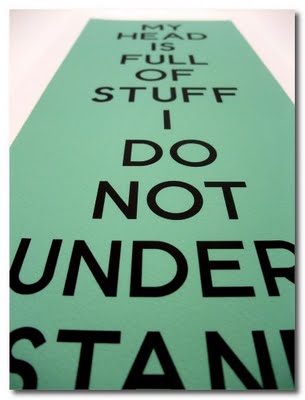 I don't really understand the idea of working 40, 50, or more hours each and every week.  Being separated from your Family during this time.   Missing out on your child's music recital.  Missing a romantic moment with your Spouse.  Not being able to find the time to keep your body healthy or enjoy the things that make your heart sing.  To me a normal week should really be 2 days of work, and 5 free days……not the reverse.
I don't really grasp the concept of having a child spend more waking hours in a daycare then with their Parents.
I don't understand how someone can dedicate many years of their life to work, just so at the end they won't have to worry about working so hard anymore.  However, in the meantime, they have missed many years of really living.
I don't see why anyone would consciously make someone else's day worse….using harmful words and actions.
I don't get violence and why it continues to be a part of our world.  "Anything war can do, Peace can do better".
I don't see why other Countries and the people living in them try to emulate the United States and it's celebrities.
I don't understand why people don't spend more time enjoying nature.
I've grown to learn that Life really is about the Small things, and those Big things do not amount to very much at all.  Don't let those ones drive you.
Focus your attention on Making Life how you would like it to be.  Enjoy your day.  Enjoy your Life.  Enjoy Your Ride.