Duzer Down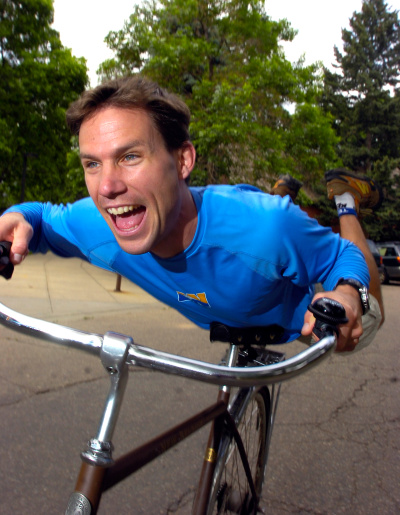 My internet buddy, Ryan Van Duzer (aka Duzer), takes off tomorrow morning on another incredible cycling adventure.  This time he'll be pedaling down the west coast, 3,000 miles from Vancouver to Cabo San Lucas.  What's the occasion this time, you ask?  Well, he lists three fantastic reason for taking the journey:
Travel at a brisk 15MPH while discovering the America you can't experience when wizzing by in a vehicle.
Riding for the 'People for Bikes' campaign, gathering signatures to help build a national movement to improve cycling in our country.
Raising MUCHO dinero for Community Cycles, my favorite bicycle loving-world saving-health promoting advocacy group–right in my hometown of lovely Boulder Colorado.
I've talked about Ryan a few times in the past, but if you don't know who this amazing individual is, let me give you the quick low down.  He's a 31 cycling maniac who has never had a driver's license, he has a love for life so infectious that he can make even the grumpiest of people smile and laugh, and he is one mean bicycle advocate hombre.
"If I can ride thousands of miles on a bike, more people can think about leaving their car in the garage and instead ride bicycles around their communities, our planet needs our help."
His "Duzer Down" ride from Vancouver will be as eco friendly as possible, no support cars allowed!  He's pulling a trailer with all his gear (shorts, shirts, peanut butter, 18 cans of beans) along with  a computer and camera to broadcast the adventure to the world.  Be sure to check in with him daily at his site www.ryanvanduzer.com.
I was going to include one of his beautifully wacky videos to close out this post, but instead I'm going to share a video that Duzer posted last week on his website.  It is from People for Bikes (who Ryan is doing his journey for).  I found this video so awe inspiring that I couldn't just Tweet or Facebook it.  I had to give it it's own space here in a post.  An incredible video to go along with a post about an incredible human being.  Rock on, Duzer….You're one of the best. Oh, and you really should check out some of his videos.  Browse through Duzer's Youtube channel….you'll be glad you did.
[youtube]http://www.youtube.com/watch?v=jEhpUov-adU[/youtube]