Ever Wanted to Edit Your GPS Training Data Online?
Now you can.  Hot and fresh this week is a new online tool that allows cyclists (and other athletes) to edit raw device data collected from any of more than 90 different devices including GPS, power meters, and heart rate monitors.
We'd like to congratulate our good friends over at TrainingPeaks for launching this never seen before technology which is definitely something to be excited about.  They've been working on this for a while now, but just officially dropped the goodness today.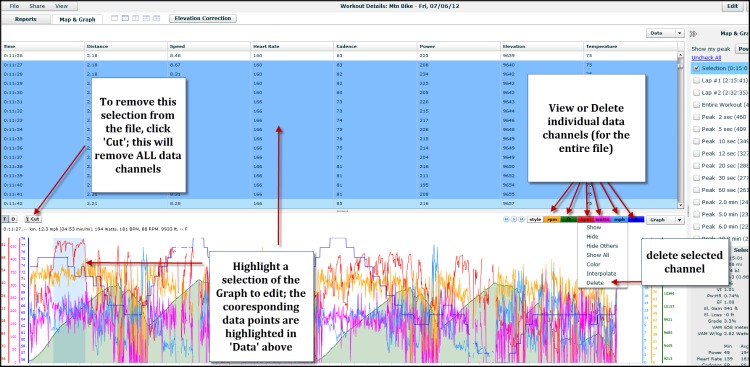 This new data editing tool will allow you to:
Delete segments of data such as warm-ups or cool-downs and erroneously created segments
Edit specific points where data spikes have occurred
Drop entire channels like heart rate, power, pace, temperature, and more
Along with this, your workout totals, average and peak value calculations will adjust automatically after editing and all of these edits will show up in TrainingPeaks charts.
TrainingPeaks co-founder and CEO Gear Fisher says:
"We have the best analytics tools of any endurance sports training software, and this feature will help improve the accuracy of your data. This in turn improves your ability to analyze and plan future workouts effectively."
In the past, you could do edits like this using desktop training software, but who really uses desktop software anymore…right?  Everything is done on the web these days and now so can this, thanks to TrainingPeaks.
But just like most things on the web….goodness like this comes with a price.  The data editing is a Premium Feature and only available for TrainingPeaksAthleteEdition users and users of TrainingPeaksCoachEdition software.  But with that said, if you're just interested in using the free stuff over TrainingPeaks, the free Basic Athlete Edition tool still gives you access to the platform's workout graphs and select charts.
Okay, I don't mean to sound like an advertisement, but I do like to promote good news from good companies.  Are you a TrainingPeaks customer?  Whether you are or not, what are your thoughts on this online tool now being available?
Learn more about the new TrainingPeaks data editing features and how to use them at support.trainingpeaks.com/personal–edition/detailed–view/data–editing.aspx.