Fantasy Cycling 2013

2013 is here and with it brings the awesome new Fantasy Cycling league brought to you by road.cc.
This year we have a new and improved fantasy game to bring you, the new bit is from me (I've given the league a new name) and the road.cc chaps are supplying the excellent, improved game play. For those of you who competed last year the game rules are almost exactly the same but the user interface has been improved with improved visual stats and new achievements to unlock in the Premium section. You can find the full list of rules and regulations here.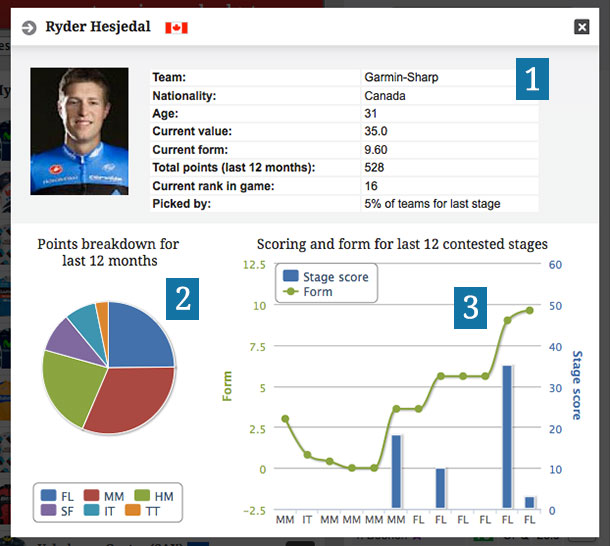 As we go to press there are no confirmed prizes for this year's competition but be assured that it will be worth fighting for at every race this season. I'm hoping to secure some prizes for the Grand Tours as well as the overall so make sure you make those team substitutions in time for the next race/stage.
Although you will be able to join the league at any point in the year, overall scores will only be taken from people competing in all of the NON-premium events. We did have a situation last year where a certain someone (who will remain nameless due to editorial privileges) competed in the extra Premium rounds which skewed the scores slightly. This year the Premium game does actually give you something extra rather than just a few extra races. For a mere £10 (that's 16 Americani bucks by my quaculations) you get 10 extra races including the early Classic races, Tour of California and the USA Pro Cycling Challenge. You also get more stats options for your roster as well as being able to select 2 teams to run side by side, one in the regular LovingTheBike.com league  and the other in a 'Purist' league where you keep the same squad throughout the season and are not allowed to make transfers. Please feel free to upgrade to premium and compete with me in every round, the scores will be adjusted accordingly for our own league.
The final thing you need to know is the league details… Head over to road.cc and the LovingTheBike.com league, which can be found with code 76148  if the link doesn't get you straight there. Ensure you have your account created and first team picked by January 22nd for the start of the Tour Down Under. Although we won't be reminding you before every competition, when possible, you will get a nudge via the #bikeschool feed on Twitter from myself (@StevieDexter). If you are ever in need of some background information on the races and/or riders my favourite source is steephill.tv. Don't say I never help!
The best of luck to everyone and please, please don't beat me!
Stevie