Farrah: Every Bike Has a Story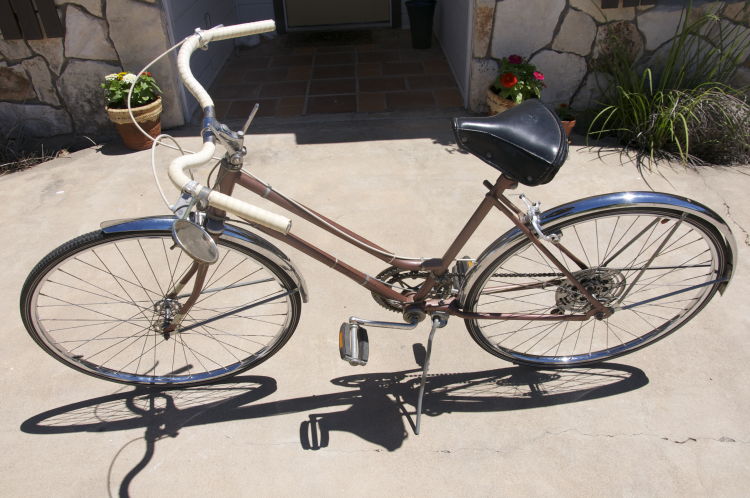 She's a rustic old frame on two tired out wheels, and our family knows her as Farrah.
We were living in Austin, and looking for a vintage bike for my antique loving wife.  She came across a Columbia bicycle on Craigslist, and it instantly spoke to her.  The bike was located West of town, so we took a drive out to meet her….and the owner.
Our day became more than just bicycle shopping, it was an interaction that brought is into the life of one very interesting man.
At first it was all about the bike.  I checked it over, my wife gave it a ride, and we contemplated the purchase.  But then the magic kicked in.
All of a sudden the experience was painted by the incredible story-telling of this man with a bike for sale.  We learned about his travels across the United States and how at one point in his life, he befriended Farrah Fawcett.  In fact, they became such good friends that he was even with her for occasions as grand as when she married Lee Majors.
He was never some big celebrity, but he definitely ran in the same circles as Farrah and her friends.  We never did ask, but I like to image that at some point Farrah put a few miles on this old Columbia.
I've bought a lot of bikes in my time, but this bicycle buying experience is most definitely the most memorable.  Of course, my wife named her Farrah….and although she isn't ridden much any longer, every time I look at her I can't help but remember back to its original owner and his story.
Your Bike's Story:
Do you have an interesting story about how your bicycle got its name?  Share it with us.  E-mail it to [email protected] and we'll put it up on the site.