Food on the Go….on and off the Bike
For as long as I can remember, my typical lunch has been a protein bar or shake.  Yeah, some people say that is not real food and shouldn't be ingested as a daily meal, but I wouldn't have it any other way.
The benefits to me are that it's quick, nutritious, and I don't have to think about what I will have for lunch.  Plus, they taste good and allow me to keep buzzing through my day.
There are other benefits as well.  I find that a "normal" lunch can slow me down….in more ways than one.  First of all it takes time to make and eat that kind of lunch.  Secondly, a lunch like that can make me feel tired around mid-afternoon.  Eating a bar or shake is super fast and doesn't at all give me the afternoon slow down.
This kind of food is great for on the bike as well.  Whenever I'm going on a big ride, I'm sure to bring along a protein bar, roks, or sometimes a shake.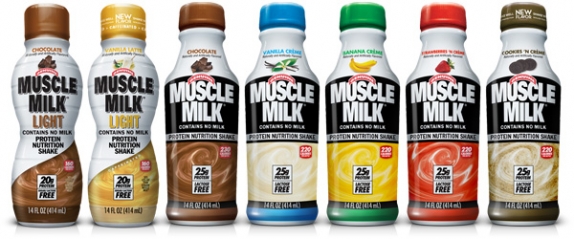 I recently came across another quick, nutritious, and delicious lunch time fuel option.  The crew from Muscle Mlk sent some samples to try out, so I've been chugging back their variety of flavours and options.
They taste great, are packed full of protein (their Pro Series has up to 40g protein per bottle), and I don't have the mixing time or mess that goes with making a shake.  Oh, and they can also be easily taken along on the ride as well.
If you're like me and dig what I call "nutritious fast food", think about adding Muscle Milk to your mix of options.